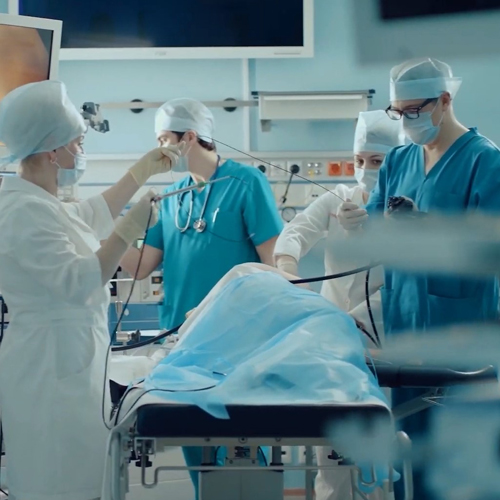 We are open to cooperation!
We transfer knowledge, experience and skills to colleagues who need them.
01.01.1970
The State Institution "Republican Clinical Medical Center" of the Office of the President of the Republic of Belarus (RCMC) is a modern multidisciplinary high-tech medical and preventive institution with clinical, scientific and educational platforms. On the basis of the Center, since 2016, the introduction of simulation educational technologies has begun, and since 2019, its own clinical educational simulation center has been operating. The administration and staff of the RCMC considered it their duty to disseminate knowledge, experience and skills in the use of high modern medical efficient technologies among colleagues in other healthcare institutions of the Republic.
From October 1, 2020, an unique program for the Republic of Belarus was developed and within 2 years the educational project "Modern Medicine in the Regions" was implemented, which includes the following areas: endovideosurgery, flexible endoscopy, ultrasound diagnostics, radiation diagnostics, X-ray endovascular surgery, basics of transfusiology, emergency conditions and infectious-epidemiological control. This is the first educational project in the Republic, which includes the following stages: training and development of manual skills by specialists on simulation equipment according to educational programs in various areas; carrying out surgical interventions and diagnostic manipulations on the equipment of the health care organization of the region by specialists of the RCMC together with medical specialists who have undergone training; remote consultation of specialists on complex issues using telemedicine; conducting educational master classes in the operating room of the RCMC (difficult patients from a regional healthcare institution), the opportunity to connect to the lectures of leading healthcare professionals of the Republic of Belarus held at the RCMC.

The project involves 9 central district hospitals (Beryoza, Luninets, Kobrin, Lida, Ostrovets, Soligorsk, Zhodino, Krichev, Gorki, Shklov) from 4 regions: Minsk, Brest, Grodno and Mogilev. 250 medical specialists trained. Applications for training continue to come in.
It seems obvious that the number of project participants will increase and there will be a need to continue training specialists from the regions in a similar format.
The effectiveness of the project being implemented has been proven by improving the quality of diagnostic and therapeutic procedures performed, expanding the range of diagnostic and therapeutic care provided, and improving the availability of modern medical care in the regions.
We are open to cooperation!