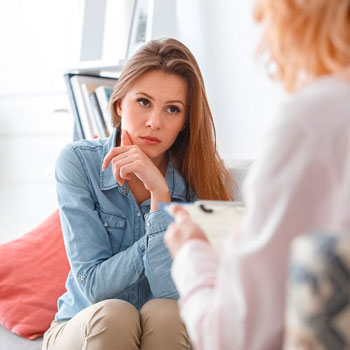 MEDICAL SERVICES PROVIDED BY THE PSYCHIATRY OFFICE SPECIALISTS
The Psychiatry Office of the Outpatient Consultation Department offers assistance to patients affected by borderline states and psychotic disorder: sleep disruption, depressive condition, anxiety and asthenic disorders, psychiatric disorders due to organic disorders of the central nervous system, dementia, as well to patients suffering from addictions.
Treatment of patients involves both pharmacological aids and psychotherapeutic procedures (cognitive-behavioural psychotherapy). Our addiction psychiatrist performs diagnosis of the mental condition of patients for subsequent assessment of their fitness for work, professional suitability, fitness for driving a vehicle or owning a weapon.
Where necessary, advisory consultations involve placement of the patient in our inpatient facilities, a pharmacological therapy procedures and mental therapy.
TERMS OF SERVICE PROVISION
The Psychiatry Office provides services exclusively to assigned patients and inpatients of RCHCC.
For reference information, you can use the services of the Contact Center: 8 (017) 543-44-44 and 8 (029) 543-44-45.