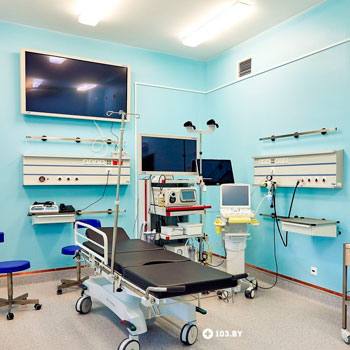 The Endoscopy Department employs highly skilled medical staff of the highest and first Qualification Grade. The Department is outfitted with advanced expert-class medical equipment. We perform the complete range of endoscopic diagnostic studies and therapeutic manipulations.
Endoscopic examinations are a modern, highly informative method of diagnostics which allows simultaneous sampling of material for histological and cytological studies and therapeutic manipulations.
PRIMARY OBJECTIVES OF THE ENDOSCOPY DEPARTMENT OF RCHCC
The main focus area of the Department are related to studies of:
bronchus
esophagus
stomach
bile pancreatic ducts
duodenum
small gut
great gut
endoscopic ultrasonography of digestive tract organs
removal of benign digestive tract neoplasms
Endoscopic examinations may be performed both in at the inpatient facilities and on outpatients, in accordance with examination and therapy programs.
Patients may undergo endoscopic examinations with general anesthesia; during the procedure the patient is under constant control of an anesthesiologist/intensive therapy physician.
TERMS OF SERVICE PROVISION
Specialists of the Endoscopy Department offer a range of outpatient diagnostic services to assigned patients, as well as to other patients on the basis of health service provision contracts.
To make an appointment for a paid appointment and get background information, you can use the services of the Contact Center: 8 (017) 543-44-44 and 8 (029) 543-44-45.
They work in the department
Mayevskaya Tatiana Vladimirovna
Head of the Endoscopy Department
Yanovskij Sergej Aleksandrovich
Endoscopist
Lebedev Vitalij Dmitrievich
Endoscopist