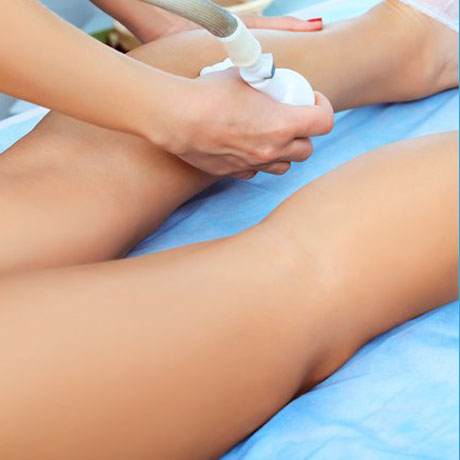 Limb vessel ultrasonography
The Functional Diagnostics Department performs ultrasonic examination of vessels (arteries and veins) of the upper and lower limbs.
INDICATIONS FOR LIMB ULTRASONOGRAPHY
The examination makes it possible to evaluate the status of vessels, their geometry, condition of tissues, structural regularity, valve condition, blood flow characteristics (using color flow Doppler mapping and Doppler sonography), as well as to reveal any thrombuses and inflammations.
THE PROCEDURE OF LIMB VESSEL ULTRASONOGRAPHY
These examinations are performed with the patient standing, sitting or laying.
During the ultrasonography of arteries and veins of the upper limbs, the status of vessel walls, their lumen, parietal thrombi and other pathologies are evaluated. Apart from that, blood flow parameters are assessed: its rate, turbulence and pressure.
During the ultrasonography of lower limb veins, the condition of vessel walls and valves, permeability of superficial and deep veins, presence of thrombi, their localization, dimensions and laxity are established.
CONTRAINDICATIONS:
There are no absolute contraindications.
PREPARING FOR LIMB ULTRASONOGRAPHY
The examination is painless and requires no special preparations.
HOW CAN I GET LIMB ULTRASONOGRAPHY AT THE RCMC
To be eligible for the examination, the patient must have
a physician's referral
Please call the Contact Center and book an appointment for the examination
You need to complete and sign a paid service contract at the Reception (present a physician's referral to the receptionist)
Pay the bill at the RCMC pay office, or through the ERIP electronic system
Get the examination at the appointed time.
Branch services
The information presented in this Price List is for guidance only. Some services are provided only in conjunction with other services. Therefore, the final price may differ from those presented on this site when contacting a medical center to conclude a contract for the provision of medical services.
УЗИ сосудов конечностей
Вверх
Услуга
цена для граждан:
беларуси
снг
остальных стран
УЗИ. Дуплексное исследование брюшной аорты, подвздошных артерий и артерий ног с цветовым и энергетическим допплером с окружающими мягкими тканями
44 р. 67 к.
133 р. 36 к.
133 р. 36 к.
УЗИ. Дуплексное исследование поверхностных и глубоких вен ног с цветовым и энергетическим допплером с окружающими мягкими тканями
44 р. 67 к.
133 р. 36 к.
133 р. 36 к.