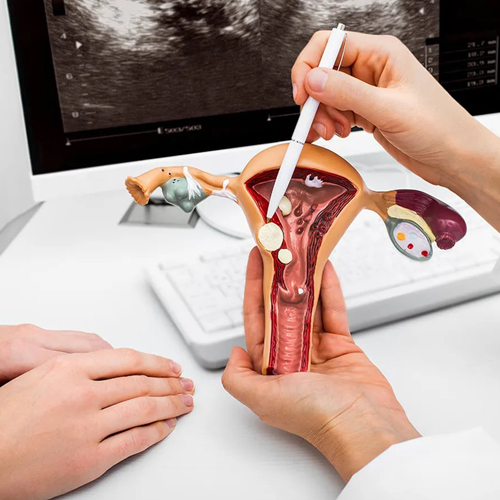 Endometriosis advisory reception
SI "Republican Clinical Medical Center" of the Administration of the President of the Republic of Belarus offers outpatient counseling by gynecology specialists.
Today, the Center offers full spectrum of endometriosis diagnosis and treatment services. Any required surgical treatment is carried out using minimally invasive procedures (using laser, laparoscopy or robotic technologies). This is also true for complicated endometriosis (when other organs are affected).
INDICATIONS TO COUNSELING FOR ENDOMETRIOSIS TREATMENT
3rd or 4th degree womb endometriosis (adenomyosis)
Extragenital endometriosis (intestinal, bladder, etc.)
3rd or 4th degree ovary endometriosis
Peritoneal endometriosis of pelvic peritoneum
Deep invasive endometriosis of rectovaginal septum and vagina
Endometriosis and infertility
Endometriosis and a painful condition
THE ARRANGEMENT OF COUNSELING SERVICES
Advisory reception is carried out by Oleg Yurievich Goncharov, a highest Qualification Grade gynecology specialist who possesses solid experience of minimally invasive operative treatment of gynecology and endometriosis at any stage of the disorder's development.
Outpatient consultation schedule: every Friday, 14:00 to 15:00, office D 112, by previous appointment.
PREPARATION
To be eligible for consultation, please make sure you have the following documents with you:
a referral for consultation (this must bear the seal/stamp stating the name of the referring organization, full name, title and contact telephone of the referring physician);
the outpatient medical record (as per Appendix 2 to Order of Ministry of Health Care of the Republic of Belarus No. 92 dated 09.02.2010). This should contain brief medical history data and the results of general clinical examination and treatment of the patient. Please note that pelvic organ and abdominal organ ultrasonography results are mandatory;
A clinical record (all instances of hospitalization for surgical procedures along with histological study results, or bearing the diagnosis of "endometriosis"), as well as outpatient medical record stating special examination results as per Order of Ministry of Health Care of the Republic of Belarus No. 17 dated 19.02.2018;
Additional diagnosis and consultation reports of medical specialists in case of any extragenital diseases;
Other examinations may be required according to instructions of the consulting medical officer.
HOW CAN I HAVE A ENDOMETRIOSIS TREATMENT CONSULTATION?
You should call the Contact Center to make a reservation for the consultation.
Be at the Center at the appointed time.