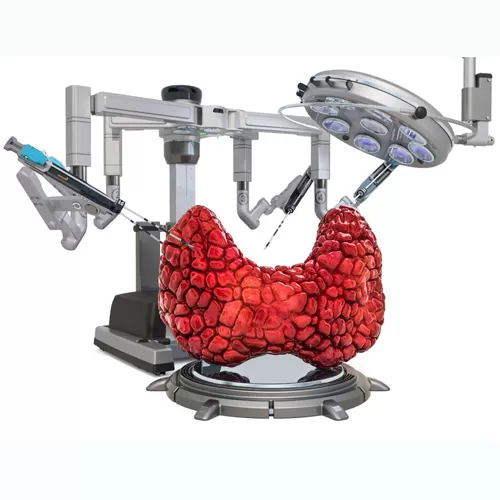 Surgical treatment of thyroid and parathyroid glands
SI "Republican Clinical Medical Center" performs surgical treatment of thyroid and parathyroid glands.
INDICATIONS FOR SURGICAL INTERVENTION
toxic diffuse goiter;
toxic adenome;
functional node autonomy;
multilevel goiter accompanied by compression of cervical organs (trachea, esophagus);
cosmetic defects;
parathyroid gland adenoma.
SURGICAL TREATMENT OF THYROID AND PARATHYROID GLAND PATHOLOGIES AT THE RCMC
RCMC performs conventional, "open" surgical interventions.
RCMC is also the only Belarusian medical institution to perform transoral endoscopic operations on the thyroid glands (TOETVA).
CONTRAINDICATIONS
decompensated cardiac, pulmonary or renal insufficiency;
hyper/hypothyrosis.
PREPARATION FOR SURGERY INTERVENTION
The consulting physician may appoint additional examinations.
Additional preparation of the patient is carried out at the inpatient facilities of the RCMC one day before the operation.
HOW CAN I UNDERGO SURGICAL TREATMENT AT THE RCHCC?
Patients are hospitalized on the basis of a referral of a surgeon after a consultation with the Head of the Surgery Department.
If there is surgeon's referral, you need:
Call the Contact Center to make an appointment with the Head of the Surgical department
Come to the consultation on time.
Conclude a contract for the provision of paid services at the registry on the day of hospitalization.
Pay the invoice at the cash desk of the RCMC or via ЕРИП (SSIS: Single Settlement and Information Space)