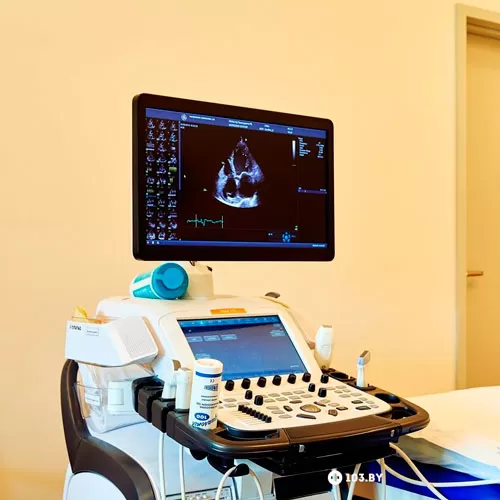 Vein ultrasonography
Ultrasonic examination of upper and lower limb veins (vein ultrasonography) is a study of the structure and permeability of veins their valves, and blood flow in the limb runoff vessels.
INDICATIONS FOR VEIN ULTRASONOGRAPHY
Vein ultrasonography is a highly diagnostically valuable technique enabling the diagnosis of thrombophlebitis and varicose vein dilation. This study is a part of the examination program which precedes surgical treatment of veins.
CONTRAINDICATIONS:
There are no absolute contraindications.
PREPARING FOR VEIN ULTRASONOGRAPHY
No special preparation of the patient is required.
HOW CAN I GET VEIN ULTRASONOGRAPHY AT THE RCMC
To be eligible for the examination, the patient must have
a physician's referral
Please call the Contact Center and book an appointment for the examination
You need to complete and sign a paid service contract at the Reception (present a physician's referral to the receptionist)
Pay the bill at the RCMC pay office, or through the ERIP electronic system
Get the examination at the appointed time.
Branch services
The information presented in this Price List is for guidance only. Some services are provided only in conjunction with other services. Therefore, the final price may differ from those presented on this site when contacting a medical center to conclude a contract for the provision of medical services.
Услуга
цена для граждан:
беларуси
снг
остальных стран
УЗИ компл. Дуплексное сканирование сосудов с цветным и энергетическим доплером одного артериального и одного венозного бассейна (БЦА или артерии рук + брахиоцефальные вены или вены рук)
40 р. 01 к.
134 р. 96 к.
134 р. 96 к.
УЗИ. Дуплексное исследование брюшной аорты, подвздошных артерий и артерий ног с цветовым и энергетическим допплером с окружающими мягкими тканями
44 р. 67 к.
133 р. 36 к.
133 р. 36 к.
УЗИ. Дуплексное исследование поверхностных и глубоких вен ног с цветовым и энергетическим допплером с окружающими мягкими тканями
44 р. 67 к.
133 р. 36 к.
133 р. 36 к.