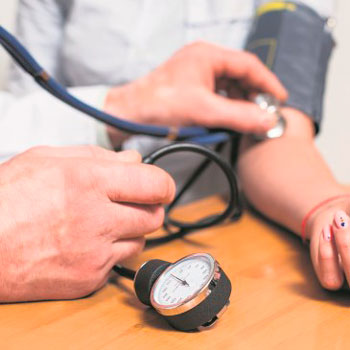 Outpatient Therapy
Department
PRIMARY OBJECTIVES OF THE OUTPATIENT THERAPY DEPARTMENT OF THE RCHCC
Every person sought medical assistance at some moment in their life. A high temperature, a sore throat, belly-ache and pain in the joints are the most frequent reasons to seek consultation with a therapeutist.
Responsibilities of primary care physicians of RCMC involve:
diagnosis and treatment of acute respiratory diseases
diagnosis and treatment of cardiovascular system disorders
diagnostics and treatment of gastrointestinal and other diseases
disease prophylaxis
In cases of certain complex and rare diseases and disease aggravations, patients are referred by therapeutists for further observation of a specialized physician within the therapeutic profile.
TERMS OF SERVICE PROVISION
Outpatient Therapy Department (fee-based sectors) offers a package of outpatient-polyclinic (OPHC) health care and comprehensive health care (CHC) services to patients under health care service provision contracts and private health insurance programs.
For reference information, you can use the services of the Contact Center: 8 (017) 543-44-44 and 8 (029) 543-44-45.
They work in the department
Zhukovskaya Oksana Yurievna
Head of the Outpatient Therapeutic Department
Gavruk Elena Sergeevna
General Practitioner
Zhevnyak Zhanna Ivanovna
General Practitioner
Lemeshevskaya Ol'ga Nikolaevna
General Practitioner
Lysova Tat'yana Mihajlovna
General Practitioner
Nesterovich Elena Mihajlovna
General Practitioner
Starynina Lyudmila Stanislavovna
General Practitioner
Telenchenko Tat'yana Ivanovna
General Practitioner
Vasetkova Svetlana Dmitrievna
General Practitioner