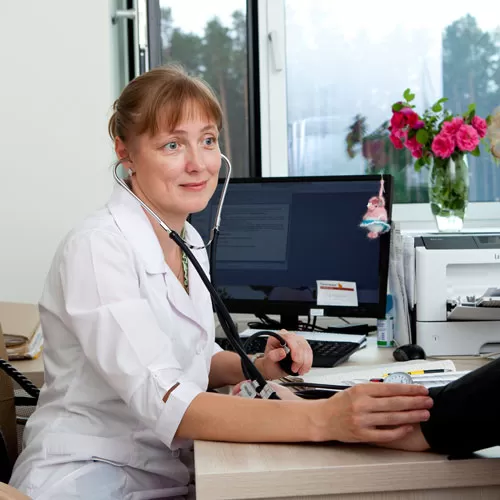 Outpatient Therapy services
Outpatient Therapy Department offers a package of Outpatient-Polyclinic Health Care (OPHC) and Comprehensive Health Care (CHC) services to patients under health care service provision contracts and private health insurance programs.
INDICATIONS TO SEEKING A THERAPEUTIST'S SERVICES
The most frequent reasons for seeking the help of a therapeutist are: elevated temperature and throat/stomach/joint pains.
THERAPEUTIC SERVICES PROVIDED AT THE RCMC
During your visit, the therapeutist will determine the general state of your health, and appoint the necessary tests and consultations to be performed/provided by other medical specialists in order to determine the diagnosis. A therapeutist is a physician who consolidates diagnostics, therapy, rehabilitation and prophylaxis. This medical professional adjusts the patient management program in each individual case, at any stage of the diagnostic and therapeutic process, and offers professional recommendations on the prevention of disease development.
During the initial visit to a therapeutist of SI "Republican Clinical Medical Center", the following procedures will be carried out:
examination and disease history taking;
establishing a provisional diagnosis;
explaining to the patient the causes of their malaise;
appointment of additional instrumental and laboratory studies and, if necessary, referral to a dedicated medical expert;
appointment of a pharmaceutical treatment;
organization and holding annual health examinations and an ongoing monitoring of the patient.
HOW CAN I USE THE SERVICES OF A THERAPEUTIST AT THE RCMC?
Therapeutic services are provided to assigned patients and to persons under health care provision contracts as part of the
"Outpatient-Polyclinic Health Care"
or
"Comprehensive Health Care"
Programs.
Branch services
The information presented in this Price List is for guidance only. Some services are provided only in conjunction with other services. Therefore, the final price may differ from those presented on this site when contacting a medical center to conclude a contract for the provision of medical services.
Амбулаторно-терапевтическая помощь
Вверх
Услуга
цена для граждан:
беларуси
снг
остальных стран
Первичный прием врачом-терапевтом
45 р.
89 р. 46 к.
89 р. 46 к.
Повторный прием врачом-терапевтом
34 р.
67 р. 46 к.
67 р. 46 к.