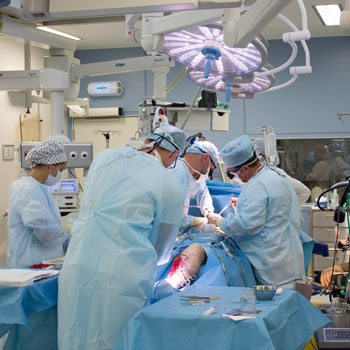 Operative Cardiovascular Surgery
Department
PRIMARY OBJECTIVES OF THE OPERATIVE CARDIOVASCULAR SURGERY DEPARTMENT
The Department essentially provides planned surgical services to patients with coronary heart disease, acquired and congenital heart defects, cardiomyopathy, thoracic aneurysm, as well as to patients with brachiocephalic artery pathologies and lower extremity varicose vein dilation.
Operations are performed in modern operating rooms; we employ advanced conventional and minimally invasive equipment and apply current artificial and assisted circulation techniques, off-pump support techniques and hybrid technologies.
Patient preparation and care is carried out in well-equipped cardiology and cardiac intensive care units that provide comfortable stay of patients. To achieve optimal treatment results, we employ the capacities of angiography and endovascular surgery units, of functional, X-ray and radionuclide diagnostics units, as well as the assistance of rehabilitation therapists. Where necessary, we use help of a wide range of other specialists of out multidisciplinary Center.
TERMS OF SERVICE PROVISION
Examination and surgical treatment of patients is provided on a fee basis, as well as under health care service and insurance contracts. In accordance with Order of Ministry of Health Care, fee-based services are provided to patients from Minsk and the Minsk Region, the Brest Region and the Mogilev Region. Indications for an operation, necessary examinations and duration of hospitalization are determined during an advisory reception. Patients are referred for consultation by medical officers of Minsk Municipal Cardiology Center or Minsk Regional Clinical Hospital, Brest Cardiology Health Center or Mogilev Cardiology Health Center following the results of case conferences held at district cardiology health centers. Patients may also apply for cardiovascular services independently on a fee basis.
Cardiac surgeon's consultations
Pre-admission consultations are carried out by previous appointment, on Mondays and Wednesdays at 15:00 till 16:00, at office Г 112.
You may also contact the Operative Cardiovascular Surgery Department by telephone 8 (017) 543-43-88, 543-43-89 to get a cardiac health specialist's advice.
Medical documentation may also be frowarded to email cardiosurgery@vip-clinic.by.
To order a consultation and get assistance, please get in touch with our Contact Center by telephone at the numbers: 8 (017) 543-44-44 and 8 (029) 543-44-45.
If you have been scheduled for hospitalization and subsequent operation, you will be contacted by our staff via the telephone.
Contact information of the Operative Cardiovascular Surgery Department

8 (017) 543-43-89 – Head of Department
8 (017) 543-43-88 – Staff Room
В отделении работают
Kozlov Oleg Igorevich
Head of the Cardiac surgeon
Alistratov Anton Grigorievich
Cardiac surgeon
Kozlov Sergey Igorevich
Cardiac surgeon
Komarovsky Alexander Alexandrovich
Cardiac surgeon
Olikhver Yuri Alekseevich
Cardiac surgeon
Slobodchikova Yulia Nikolaevna
Cardiologist
Lyubimova Olga Vladimirovna
Cardiac surgeon
Kovaleva Elena Evgenievna
Cardiologist