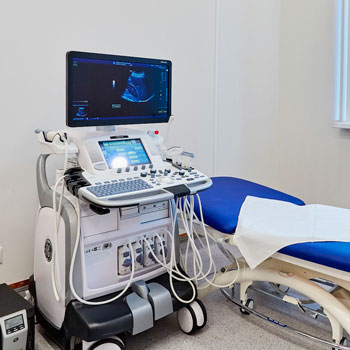 Ultrasonic Diagnosis
Office
Due to its high informational value, non-invasiveness, fast action and the capacity for multiple iterations with no harm to the patient's health, ultrasonic examination is one of the most popular study methods. Today, ultrasonography is an undisputed search method, and quite often is the method of choice in disease diagnostics.
With the introduction of novel computer-assisted technologies, diagnostic capabilities of the ultrasonic method advanced even further. In real-life conditions, ultrasonography operators successfully apply such new examination methods as energy and color flow Doppler mapping, fundamental and second harmonics analysis, three-dimensional and panoramic sonography.
The Office is equipped with expert-class LOGIQ E9 ultrasonography stations produced by General Electric that possess all of the modern capabilities.
PRIMARY OBJECTIVES OF THE ULTRASONIC DIAGNOSTICS OFFICE OF THE RCHCC
Ultrasonic Office performs the following ultrasonic studies:
ultrasonography of the abdomen and retroperitoneal space;
ultrasonography of thyroid gland;
ultrasonography of salivary glands;
ultrasonography of soft tissues;
ultrasonography of prostate gland (including transrectal ultrasonography);
ultrasonography of scrotum organs;
ultrasonography of the musculoskeletal system;
ultrasonography of the pleural cavity;
ultrasonography of abdominal aorta;
ultrasonography of internal organ vessels;
ultrasonic guidance is used to perform: prostate gland biopsy, thin-needle aspiration biopsy of thyroid gland, puncture of pleural cavities, abdomen and retroperitoneal space.
You may want to undergo a paid examination in ultrasonic diagnostic offices of our Medical Center. Specialists of the RCHCC developed a number of diagnostics programs that include ultrasonic diagnostics.
TERMS OF SERVICE PROVISION
Ultrasonic diagnostic services are provided by specialized health care officers to assigned patients, as well as to patients under medical care service contracts.
To make an appointment for ultrasound diagnostics and get reference information, you can use the services of a Contact center: 8 (017) 543-44-44 and 8 (029) 543-44-45.
They work in the department
Rohaten Pavel Petrovich
Head of the Ultrasound Diagnostics Office
Avgustenok Sergey Georgievich
Ultrasound Diagnostic Doctor
Antiperovich Yelena Borisovna
Ultrasound Diagnostic Doctor
Ivanovich Olga Valentinovna
Ultrasound diagnostics Doctor
Sinyakova Elena Vladimirovna
Ultrasound diagnostics Doctor
Stepanova Larisa Borisovna
Ultrasound diagnostics Doctor