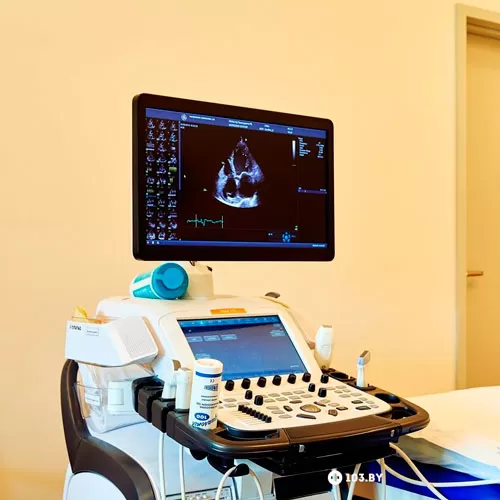 Ultrasonic diagnostics
Today, ultrasonic diagnostics is an undisputed search technique, and in many cases is the method of choice in the diagnostics of a wide spectrum of disorders associated with abdominal cavity, pelvis, soft tissues, the musculoskeletal and lymphatic system organs and vessels. The advantages of the technique are its non-invasiveness, promptness, the capacity for multiple iterations with no harm to the patient's health and high diagnostic value.
With the introduction of novel computer-assisted technologies, diagnostic capabilities of the ultrasonic method advanced even further. For a more accurate diagnosis, the technologies of energy and color-flow Doppler mapping, fundamental and second harmonics analysis, three-dimensional and panoramic sonography, and elastometry studies may be employed.
ULTRASONIC DIAGNOSTIC CAPABILITIES OF THE RCMC
We offer the following examinations:
Salivary gland examination
Ultrasonography of soft tissues
Women's pelvic organ examination (including transvaginal ultrasonography)
Prostate gland examination (including transrectal ultrasonography);
Ultrasonography of scrotum organs
Ultrasonography of the musculoskeletal system
Ultrasonography of the pleural cavity
Ultrasonography of abdominal aorta
Ultrasonography of internal vessels of organs (liver, kidneys, uterus, fetus, etc.)
Ultrasonic guidance is used to perform: prostate gland biopsy, thin-needle aspiration biopsy of thyroid gland, puncture of pleural cavities, abdomen and retroperitoneal space.
There are no absolute contraindications to ultrasonography procedures.