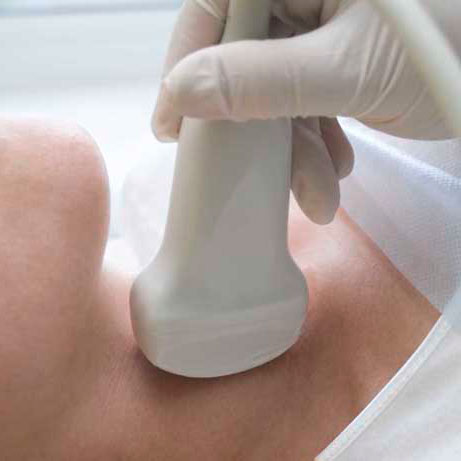 Thyroid gland ultrasonography
Thyroid gland ultrasonography is the examination appointed to patients with abnormalities of the gland and suspected endocrine pathologies.
INDICATIONS FOR THE EXAMINATION OF THYROID GLAND
Specialists recommend to undergo an examination of thyroid gland every year -- this would make it possible to reveal any malfunctioning of this organ and thus to prevent the occurrence and development of various severe disorders.
THE PROCEDURE OF THYROID GLAND ULTRASONOGRAPHY
The examination is performed with the patient in a lying position, with the head bent back. The physician moves the probe along thyroid gland and views the image displayed on screen. Afterwards, the diagnostician describes the obtained results in the examination report.
What may thyroid gland ultrasonography reveal?
the gland's location;
morphology;
dimensions;
structure;
contours;
present neoplasms;
echogenicity;
apparent lymph gland changes.
CONTRAINDICATIONS:
There are no absolute contraindications.
PREPARING FOR THE TEST
No preparation for the examination is required. If you have the results of a previous thyroid gland examination, do bring them along.
HOW CAN I GET THYROID GLAND ULTRASONOGRAPHY AT THE RCMC
To be eligible for the examination, the patient must have
a physician's referral
Please call the Contact Center and book an appointment for the examination
You need to complete and sign a paid service contract at the Reception (present a physician's referral to the receptionist)
Pay the bill at the RCMC pay office, or through the ERIP electronic system
Get the examination at the appointed time.
Branch services
The information presented in this Price List is for guidance only. Some services are provided only in conjunction with other services. Therefore, the final price may differ from those presented on this site when contacting a medical center to conclude a contract for the provision of medical services.
УЗИ щитовидной железы
Вверх
Услуга
цена для граждан:
беларуси
снг
остальных стран
УЗИ Тонкоигольная биопсия (УЗИ) (на цвет. цифр. УЗ апп. с налич. слож. ПО(к-во канал >512)
49 р. 60 к.
114 р. 43 к.
114 р. 43 к.
УЗИ панорамное сканирование (на цвет. цифр. УЗ апп. с налич. слож. ПО(к-во канал >512)
26 р. 11 к.
76 р. 54 к.
76 р. 54 к.
УЗИ щитовидной железы с поверхностными лимфоузлами. Проведение цветной и энергетической допплерографии при выявленной патологии
21 р. 62 к.
67 р. 33 к.
67 р. 33 к.