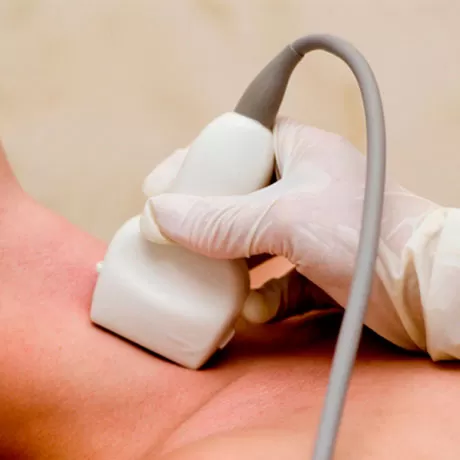 Ultrasonography of brachiocephalic vessels
This effective technique of spinal cord pathology and carotid artery diagnosis makes it possible to detect a whole spectrum of structural pathologies of these vessels: stenoses (constriction), arterial sclerotic disorders, vessel development anomalies, vessel course pathologies (in particular those associated with vertebral osteochondrosis).
INDICATIONS FOR ULTRASONOGRAPHY OF BRACHIOCEPHALIC VESSELS
headache; dizziness, faintness;
sleeping disorders;
vision impairment, dark spots, blurry vision;
buzzing or ringing in the ears;
impairment of movement coordination, impairment of tactile sensation, arm and leg weakness;
impaired concentration and memory impairment.
THE PROCEDURE OF BRACHIOCEPHALIC VESSEL ULTRASONOGRAPHY
The examination is performed with the patient in a lying position. The station's sensor moves along the neck following brachiocephalic vessels. In the course of the examination, the intima/media complex of the carotid artery, the status of the its internal, medium and external coat and the diameter of the arteries are evaluated and the blood flow rate is estimated.
The ultrasonic records are interpreted by comparing the indicators of the specific patient with gender and age standards.
CONTRAINDICATIONS:
There are no absolute contraindications.
PREPARING FOR BRACHIOCEPHALIC VESSEL ULTRASONOGRAPHY
No preparation for the examination is required. It is recommended, however, that on the date of the examination and on the day before it you refrain from drinking strong tea, coffee, alcohol or smoking to prevent any changes in the blood flow.
HOW CAN I GET ULTRASONOGRAPHY OF BRACHIOCEPHALIC VESSELS AT THE RCMC
To be eligible for the examination, the patient must have
a physician's referral
Please call the Contact Center and book an appointment for the examination
You need to complete and sign a paid service contract at the Reception (present a physician's referral to the receptionist)
Pay the bill at the RCMC pay office, or through the ERIP electronic system
Get the examination at the appointed time.
Branch services
The information presented in this Price List is for guidance only. Some services are provided only in conjunction with other services. Therefore, the final price may differ from those presented on this site when contacting a medical center to conclude a contract for the provision of medical services.
УЗИ брахиоцефальных сосудов
Вверх
Услуга
цена для граждан:
беларуси
снг
остальных стран
УЗИ компл. Дуплексное сканирование сосудов с цветным и энергетическим доплером одного артериального и одного венозного бассейна (БЦА или артерии рук + брахиоцефальные вены или вены рук)
40 р. 01 к.
134 р. 96 к.
134 р. 96 к.