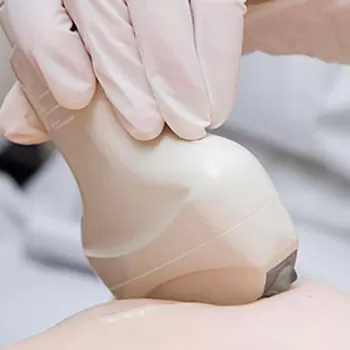 Mammal gland ultrasonography
With the purpose of preventive examination and early detection of mammal gland pathologies, our Center offers mammal gland diagnostics with the use of expert-class stations, and, when needed, performs ultrasound-assisted needle biopsy (including vacuum-assisted biopsy performed by the EnCor ENSPIRE system).
INDICATIONS FOR THE EXAMINATION OF THE MAMMAL GLAND
a painful condition;
inflammatory changes;
occurrence of pathologic space-occupying lesions;
traumatic injuries;
assessment of the condition of breast prosthesis.
THE PROCEDURE OF MAMMAL GLAND ULTRASONOGRAPHY
During the ultrasonography procedure, the structure and acoustic solidity of the mammal glands are evaluated and if any pathologies are revealed, they are characterized. If required, the examination involves ultrasound-assisted needle biopsy (including vacuum biopsy).
CONTRAINDICATIONS:
There are no absolute contraindications.
PREPARING FOR MAMMAL GLAND ULTRASONOGRAPHY
Prevent any heat action on the breast (do not take sauna, hot bath, refrain from any physiotherapeutic procedures);
X-ray diagnostic is forbidden during this time;
please have the results of previous examinations on hand (if any);
do not smoke or drink alcohol on the day before the test and on the day of the test.
HOW CAN I GET MAMMAL GLAND ULTRASONOGRAPHY AT THE RCMC
To be eligible for the examination, the patient must have
a physician's referral
Please call the Contact Center and book an appointment for the examination
You need to complete and sign a paid service contract at the Reception (present a physician's referral to the receptionist)
Pay the bill at the RCMC pay office, or through the ERIP electronic system
Get the examination at the appointed time.
Branch services
The information presented in this Price List is for guidance only. Some services are provided only in conjunction with other services. Therefore, the final price may differ from those presented on this site when contacting a medical center to conclude a contract for the provision of medical services.
УЗИ молочной железы
Вверх
Услуга
цена для граждан:
беларуси
снг
остальных стран
Проведение вакуумной биопсии молочной железы под контролем УЗИ с гистологическим исследованием
774 р. 61 к.
1110 р. 86 к.
1110 р. 86 к.
Трепан-биопсия опухоли молочной железы под контролем УЗИ
148 р. 24 к.
229 р. 73 к.
229 р. 73 к.