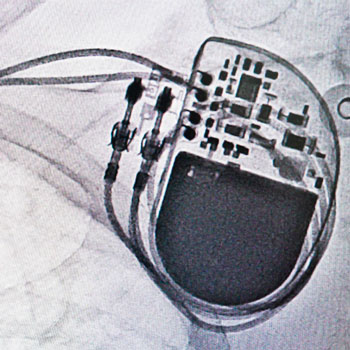 PRIMARY OBJECTIVES OF THE X-RAY OPERATION ROOM OF THE RCHCC
Specialists of the X-ray Operation Room provide assistance to patients affected by a wide spectrum of disorders:
coronary heart disorder: coronary angiography, stenting and balloon angioplasty of coronary arteries;
heart beat arrhythmia: electrophysiological examination (EPE) and radio frequency ablation (RFA) of the site of arrhythmia, implantation of electric cardiac pacemakers (ECP), artificial cardioverter defibrillator (ACD), cardiac resynchronization therapy and event monitor (Reveal LINQ);
peripheral artery disorders: angiography, stenting and angioplasty of lower extremity arteries;
aortic aneurism: implantation of stent-graft;
valve pathology: implantation of MitraClip (in cases of mitral insufficiency or TAVI in cases of aortic valve stenosis);
uterine fibroids: embolization of uterine arteries;
tumors of the abdominal cavity organs: chemoembolization etc.;
arterial sclerotic disease of brachiocephalic arteries: angioplasty and stenting of carotid and clavicular arteries.
Some of the advantages of X-ray-assisted endovascular interventions are:
Lower risk of trauma: the majority of manipulations are minimally invasive since they are performed via punctures in the pelvic area, a wrist or an elbow joint;
high efficacy;
low occurrence of complications;
no need for general anesthesia: the patient remains conscious throughout the operation;
less time spent in the inpatient facilities as opposed to conventional surgical interventions;
brief recovery period.
Our Center is fitted out with unique expert-class equipment. Advanced angiography stations made by Siemens (Germany) that feature integrated diagnostic equipment (optical coherent tomographic scanner and intravascular ultrasonic imager) make it possible to perform interventional procedures of any complexity. The hybrid surgical facility enables the performance of combined cardiovascular surgery with participation of X-ray, endovascular and heart surgeons.
TERMS OF SERVICE PROVISION
Medical care is provided on both the budget supported and fee basis, as well as under private health insurance programs. Order of Ministry of Health Care of the Republic of Belarus has made many types of therapy available to residents of Minsk and the Minsk Region since they are now funded through the budget.
Surgery specialist consultations
Consultations are offered to all patients referred to the Center by their consulting physicians or by specialists of any outpatient or inpatient medical institution of the Republic of Belarus and foreign countries, as well as to patients applying for treatment independently.
Pre-admission consultations are carried out by previous appointment, on Tuesdays and Thursdays at 13:00 till 14:00, at office Г 112.
Medical documentation may also be forwarded to email endovasc@vip-clinic.by.
To order a consultation and get assistance, please get in touch with our Contact Center by telephone at the numbers 8 (017) 543-44-44 and 8 (029) 543-44-45.
Contact information of the X-ray Operation Room

8 (017) 543-43-79 – Head of the Department Andrey Stepanovich Postoyalko
8 (017) 543-43-80 – Staff Room
В отделении работают
Postoylko Andrey Stepanovich
Head of the X-ray surgery
Sivak Sergey Alexandrovich
X-ray endovascular surgeon
Galenishcha Valery Frantsevich
X-ray endovascular surgeon
Klimov Maxim Alexandrovich
X-ray endovascular surgeon