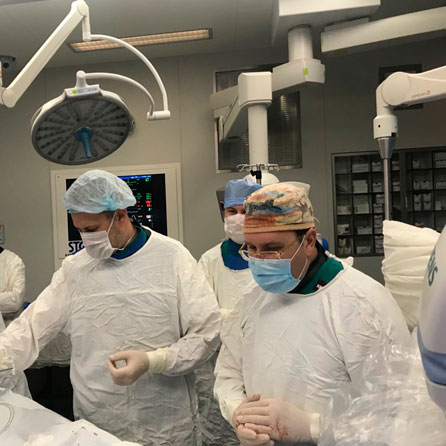 Angiography and endovascular surgery
Presently, the Center's specialists offer all kinds of angiographical and electrophysiological examinations, as well as a practically full spectrum of X-ray surgery operations. Results are recorded on any types of media (CD, DVD, sheet film or paper).
CAPABILITIES OF THE X-RAY OPERATION ROOM OF THE RCMC
At our Center, we perform the following examinations:
Arterography (coronary, cerebral, visceral and peripheral);
venocavography;
venography;
X-ray surgery services are represented by the following types of operations:
balloon angioplasty of (coronary, visceral and peripheral) stenoses and arterial occlusions;
stent implantation in cases of (coronary, cerebral, visceral and peripheral) stenoses and arterial occlusions;
endovascular prosthetics of aorta and major vessels in the presence of aneurysms;
various types embolization of organ vascular neoplasms;
You will need a preliminary counseling of the Operations Room Head Andrey Stepanovich Postoyalko, and, if electrophysiological examinations and radio frequency ablation procedures are planned -- of our Endovascular Surgeon Sergey Alexandrovich Sivak. During the consultation, the date and time of the manipulation would be scheduled, the duration of stay at the inpatient facilities determined and the required tests and examinations specified. We also offer recommendations on preparation to manipulations and tests that may be carried out in community hospitals near your residence.
Notice: Three types of contrast medium may be used depending on their availability and the patient's request. Medical manipulation fees do not include costs of materials and consumables used -- these will need to be paid for separately.