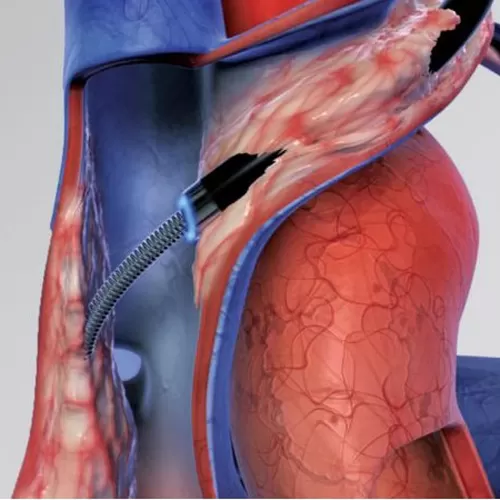 Extraction of electrodes
Extraction of electrodes of an implantable cardioverter-defibrillators (ICD) is a safe and effective procedure which involves removal of electrodes from scar tissues that incapsulate the electrodes within the cardiac cavity, and their guiding along venous vessels.
ICD systems serve to increase the lifespan of patients, however, their electrodes require replacement at a certain point in time. This is done using either mechanical or laser electrode extraction techniques.
INDICATION TO ELECTRODE EXTRACTION
contamination of the ICD;
chronic pains in the location of the implanted device or the electrodes;
thromboembolic complications associated with the formation of a thrombus on the electrode or on some of its segment which is may not be treated by any other means;
replacement of electrodes in the presence of stenosis or occlusion of superior vena cava aggravated by limiting symptoms;
in cases when electrodes prevent therapy of malignant neoplasms.
ELECTRODE EXTRACTION PERORMED AT THE RCMC
At the X-Ray Operation Room of the RCMC, we perform electrode extraction using two methods: mechanical and laser-based.
Mechanical extraction of electrodes:
electrode extraction is carried out mechanically, via veins that were used to guide and install the electrodes, or though the femoral vein. The procedure uses catheters and X-ray monitoring devices.
Laser extraction of electrodes:
electrodes are removed with the use of an fiber-optic catheter which is connected to a laser-emitting station. The energy of waves emitted by the catheter makes it possible to sever the tissue holding the electrode and free it in a controllable manner.
PREPARING FOR ELECTRODE EXTRACTION
In each case, our physicians will prepare the patient for the operation individually based on the patient's current state of health.
HOW TO GET ELECTRODE EXTRACTION AT THE RCMC
Call the Contact Center to make an appointment for a consultation
Come to the consultation on time.
On the day of the procedure conclude a contract for the provision of paid services at the registry.
Pay the invoice at the cash desk of the RCMC or via ЕРИП (SSIS: Single Settlement and Information Space)