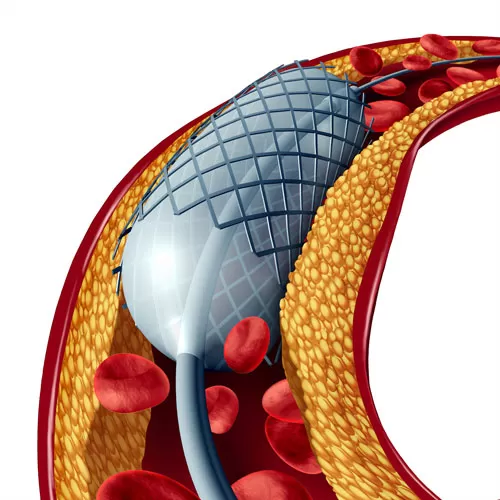 Angioplasty
Angioplasty is an endovascular surgery technique which is used to restore blood flow in cases of constriction or complete occlusion or arteries (or, in some rarer cases, of veins).
INDICATIONS FOR ANGIOPLASTY
presence of atheromatous plaques in the inner walls of arteries;
stenosis or occlusion of coronary arteries;
stenosis of renal arteries.
ANGIOPLASTY PROCEDURES PERFORMED AT THE RCMC
Using local anesthesia and X-ray guidance, in specially equipped surgical rooms, coronary arteries that are constricted due to an atherosclerotic process are expanded with the use of a catheter. Through femoral artery, a sheath introducer is inserted into the aorta, and through the sheath, a thin metal conductor is introduced. A balloon catheter is guided to the constriction location and is expanded under high pressure. This results in recovery of proper blood flow along a wide arterial lumen. In most cases, balloon angioplasty is concluded by implantation of an intracoronary stent.
CONTRAINDICATIONS
severe stages of diabetes mellitus;
chronic renal insufficiency;
pronounced artherosclerotic impairment involving calcification;
blood clotting abnormalities, anemia;
severe arterial hypertension;
endocarditis;
cardiac insufficiency at a decompensated stage;
pulmonary edema;
allergic reactions to iodine contained in the contrast agent.
PREPARING FOR ANGIOPLASTY
Ten days before the procedure, please have blood tests, ECG and, if necessary, additional examinations performed.
Shave the puncture area.
Refrain from eating and drinking four hours before the procedure.
HOW TO GET ANGIOPLASTY AT THE RCMC
Call the Contact Center to make an appointment for a consultation with the head of the X-ray endovascular surgery Department A.S. Postoyalko.
Come to the consultation on time.
On the day of the procedure conclude a contract for the provision of paid services at the registry.
Pay the invoice at the cash desk of the RCMC or via ЕРИП (SSIS: Single Settlement and Information Space)
Branch services
The information presented in this Price List is for guidance only. Some services are provided only in conjunction with other services. Therefore, the final price may differ from those presented on this site when contacting a medical center to conclude a contract for the provision of medical services.
Услуга
цена для граждан:
беларуси
снг
остальных стран
Ангиопластика балонная - периферическая (оптирей-100,0)
1323 р. 71 к.
1858 р. 20 к.
1858 р. 20 к.
Коронарная ангиопластика (РТСА) (оптирей-100,0), без коронарного проводника
1472 р. 22 к.
2007 р. 46 к.
2007 р. 46 к.
Ангиопластика баллонная + имплантация стента – периферическая (оптирей-100,0), без учета стента
1248 р. 72 к.
1783 р. 21 к.
1783 р. 21 к.