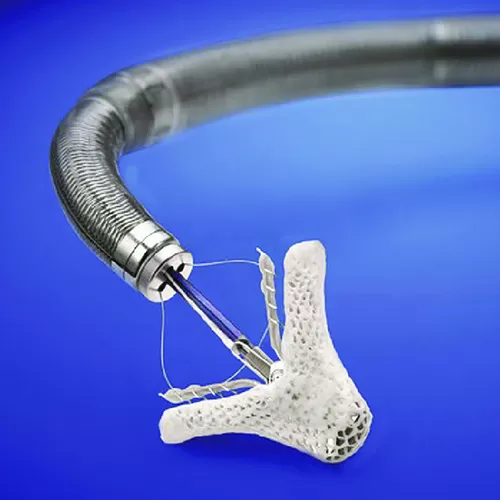 MitraClip implantation
MitraClip is a minimally invasive transcatheter procedure which makes it possible to combat mitral insufficiency in patients with contraindications to an open surgical intervention.
INDICATIONS TO PERFORMING THE MITRACLIP PROCEDURE
mitral valve failure of medium and high severity;
existing contraindications to an open heart operation.
TREATMENT OF MITRAL INSUFFICIENCY PERFORMED AT THE RCMC
The MitraClip implantation operation is performed under anesthesia. The MitraClip device is introduced through the leg of the patient, and is guided toward the heart. All the manipulations are carried out under X-ray control. The surgeon fixes the device on valve leaflet thus tightening them, which results in normalization of blood flow.
Application of this minimally invasive procedure makes it possible to reduce the patient's recovery period while the improved state can be felt immediately after coming out of anesthesia.
CONTRAINDICATIONS
infectious inflammations of mitral valve;
rheumatic disease of mitral valve;
thrombosis;
intolerance of blood-thinning pharmaceuticals.
PREPARING FOR MITRACLIP INSTALLATION
In each case, our physicians will prepare the patient for the operation individually based on the patient's current state of health.
HOW TO GET MITRACLIP INSTALLATION AT THE RCMC
Call the Contact Center to make an appointment for a consultation with the head of the X-ray endovascular surgery Department A.S. Postoyalko.
Come to the consultation on time.
On the day of the procedure conclude a contract for the provision of paid services at the registry.
Pay the invoice at the cash desk of the RCMC or via ЕРИП (SSIS: Single Settlement and Information Space)