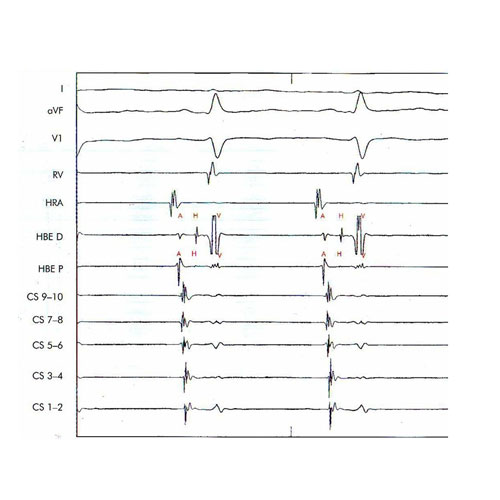 Electrophysiological examination
Electrophysiological examination of the heart (EFE) is a technique used to diagnose heart rhythm disturbance and conduction by stimulating various compartments of the heart with electricity.
INDICATIONS FOR THE ELECTROPHYSIOLOGICAL EXAMINATION
Cardiac rhythm disruptions;
Acute painful sensation to the left or right of the breastbone accompanied by labored breath and rales;
Lightheadedness, sometimes passing into faintness in the absence of central nervous system disorders or other diseases with such manifestations;
Identification of the cause of cardiac arrest.
ELECTROPHYSIOLOGICAL EXAMINATIONS PERFORMED AT THE RCMC
Angiography and X-Ray Endovascular Surgery Office specialists perform EFE with the aim of identification of the affected area for subsequent radio frequency ablation (RFA) of the arrhythmia site. The intervention is performed with local anesthesia and under X-ray control, at a special surgical facility.
Through an incision at the femoral or clavicular vein, a metal or plastic conductor is introduced. This device is used to guide the probe which carries an electrode. The progression of the probe can be monitored on a display owing to contrast medium which was administered previously. The probe is guided to a ventricular or the precardium. Medical specialists execute electric stimulation. Obtained data are recorded by a computer.
CONTRAINDICATIONS
elevated temperature;
infectious diseases;
acute cardiac angina;
certain heart abnormalities;
severe chronic cardiac insufficiency;
suspected pulmonary artery thromboemboly;
cardiac or aortic aneurysm.
PREPARING FOR EFE
One to two weeks before the procedure, blood and urine tests, coagulation test, a 12-limb ECG, an X-ray imaging of the thoracic cage and an echocardiography shall be performed. If required, additional testing may be appointed.
Based on the physicians' recommendation, discontinue the intake of certain drugs.
Several days before the examination, stop smoking, drinking caffeine-containing and alcoholic beverages.
Refrain from eating and drinking eight to ten hours before the examination.
HOW TO GET ELECTROPHYSIOLOGICAL EXAMINATION AT THE RCMC
Call the Contact Center to make an appointment for a consultation
Come to the consultation on time.
On the day of the procedure conclude a contract for the provision of paid services at the registry.
Pay the invoice at the cash desk of the RCMC or via ЕРИП (SSIS: Single Settlement and Information Space)
Branch services
The information presented in this Price List is for guidance only. Some services are provided only in conjunction with other services. Therefore, the final price may differ from those presented on this site when contacting a medical center to conclude a contract for the provision of medical services.
Электрофизиологическое исследование
Вверх
Услуга
цена для граждан:
беларуси
снг
остальных стран
Инвазивное электрофизиологическое исследование (ЭФИ)
1357 р. 69 к.
2229 р. 20 к.
2229 р. 20 к.