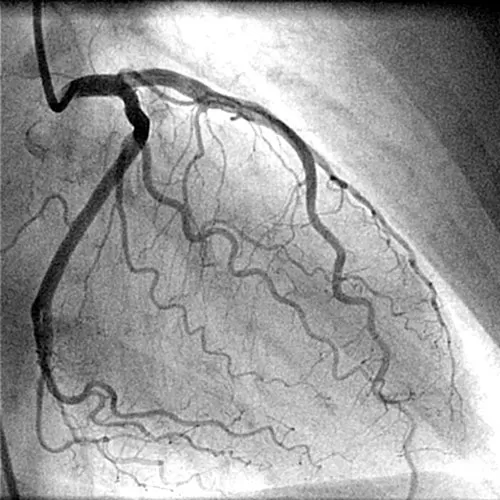 Coronarography
This is the most accurate radiopacity study technique which makes it possible to carry out conclusive diagnostics of coronary heart disease (CHD) and to make decisions on the options and scope of future treatment procedures like balloon angioplasty, stenting or coronary artery bypass grafting.
INDICATIONS FOR CORONAROGRAPHY
progressive cardiac angina;
acute coronary syndrome;
prolonged intermittent pains in the thoracic cage area that also involve shoulder blade, lower jaw, left arm and shoulder;
planned cardiovascular surgery procedures.
CORONAROGRAPHY PROCEDURES PERFORMED AT THE RCMC
The examination is performed using local anesthesia, with the patient conscious. A catheter is introduced through an puncture in femoral artery, and, using X-ray guidance, is led to coronary arteries. The catheter is used to inject a contrast medium which fills the blood vessels and enables visualization of artery lumens.
During the examination, a series of images is generated at various angles, for subsequent assessment of artery permeability.
CONTRAINDICATIONS
elevated temperature;
symptoms of intoxication;
acute progression of chronic diseases;
intolerance of the contrast medium.
PREPARING FOR CORONAROGRAPHY
Ten days before the procedure, blood and urine tests, coagulation test, a 12-limb ECG, an X-ray imaging of the thoracic cage and an echocardiography shall be performed. If required, additional testing may be appointed.
One day before the examination, shave hair at the intended area of catheter introduction.
Refrain from eating for 12 hours before the examination.
HOW TO GET CORONAROGRAPHY AT THE RCMC
Call the Contact Center to make an appointment for a consultation with the head of X-ray endovascular surgery Department A.S. Postoyalko.
Come to the consultation on time.
On the day of the procedure conclude a contract for the provision of paid services at the registry.
Pay the invoice at the cash desk of the RCMC or via ЕРИП (SSIS: Single Settlement and Information Space)
Branch services
The information presented in this Price List is for guidance only. Some services are provided only in conjunction with other services. Therefore, the final price may differ from those presented on this site when contacting a medical center to conclude a contract for the provision of medical services.
Услуга
цена для граждан:
беларуси
снг
остальных стран
Коронарография (КГР) - при стандартном доступе - С ИСПОЛЬЗОВАНИЕМ ИНЖЕКТОРА - без учета ИЗДЕЛИЙ МЕД, НАЗНАЧЕНИЯ, указываемых дополнительно
884 р. 93 к.
1233 р. 56 к.
1233 р. 56 к.
Коронарография (КГР) - при стандартном доступе - БЕЗ ИСПОЛЬЗОВАНИЯ ИНЖЕКТОРА - без учета ИЗДЕЛИЙ МЕД, НАЗНАЧЕНИЯ, указываемых дополнительно
696 р. 25 к.
1044 р. 33 к.
1044 р. 33 к.
Коронарография (КГР) - при радиальном доступе - С ИСПОЛЬЗОВАНИЕМ ИНЖЕКТОРА - без учета ИЗДЕЛИЙ МЕД, НАЗНАЧЕНИЯ, указываемых дополнительно
1030 р. 53 к.
1379 р. 16 к.
1379 р. 16 к.
Коронарография (КГР) - при радиальном доступе - БЕЗ ИСПОЛЬЗОВАНИЯ ИНЖЕКТОРА - без учета ИЗДЕЛИЙ МЕД, НАЗНАЧЕНИЯ, указываемых дополнительно
841 р. 85 к.
1189 р. 93 к.
1189 р. 93 к.