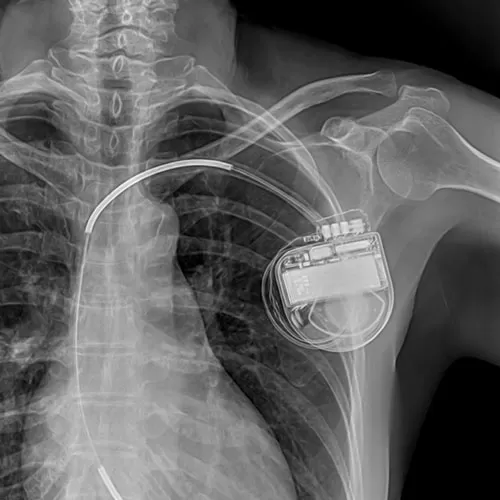 Implantation of an cardioverter
Implantation of an cardioverter defibrillator is an effective method used to control life-threatening arrhythmia. The device monitors the cardiac function and restores a normal rhythm in cases of rhythm disturbance.
INDICATIONS TO INSTALLATION OF A CARDIOVERTER DEFIBRILLATOR
Frequent fits of rapid heartbeat (tachyarrhythmia) which may lead to faintness;
A medical history of a cardiac failure caused by ventricular tachycardia;
Paroxysmal tachyarrhythmia, supraventricular tachycardia, ventricular tachycardia or ventricular fibrillation not susceptible to drug treatment.
CARDIOVERTER DEFIBRILLATOR IMPLANTATION PERFOMED AT THE RCMC
The operation is performed under local anesthesia. Using X-ray guidance, electrodes are guided to the heart and fixed there through a skin incision (no more than 5 mm in length). After that, a cardioverter defibrillator (ICD) is installed.
Following the implantation of the cardioverter defibrillator, the patient must remain in lying position for six hours. The operative wound heals in 10 to 14 days.
CONTRAINDICATIONS
sinoatrial block;
sinoatrial node dysfunction;
acute infectious diseases;
diabetes mellitus, bronchial asthma at an expressed decompensation stage;
severe aggravation of chronic disorders.
PREPARING FOR THE INSTALLATION OF A CARDIOVERTER DEFIBRILLATOR
One to two weeks before the operation, blood tests, ECG, an X-ray imaging of the thoracic cage and an echocardiography shall be performed. If required, additional testing may be appointed.
Refrain from eating for six hours before the operation.
HOW TO PERFOM CARDIOVERTER DEFIBRILLATOR IMPLANTATION AT THE RCMC
Call the Contact Center to make an appointment for a consultation.
Come to the consultation on time.
On the day of the procedure conclude a contract for the provision of paid services at the registry.
Pay the invoice at the cash desk of the RCMC or via ЕРИП (SSIS: Single Settlement and Information Space)
Branch services
The information presented in this Price List is for guidance only. Some services are provided only in conjunction with other services. Therefore, the final price may differ from those presented on this site when contacting a medical center to conclude a contract for the provision of medical services.
Имплантация искусственного кардиовертера
Вверх
Услуга
цена для граждан:
беларуси
снг
остальных стран
Имплантация искусственного кардиовертера-дефибрилятора (ИКД)
1429 р. 93 к.
2350 р. 52 к.
2350 р. 52 к.