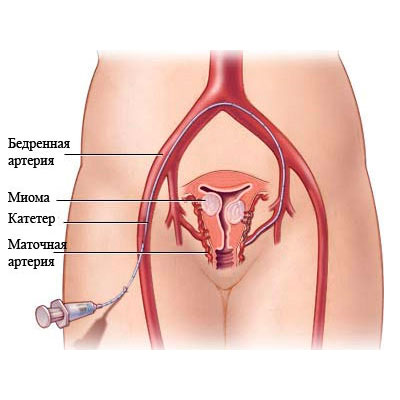 Uterine artery embolization
This is an effective modern technique of uterine fibroid therapy which makes it possible for the patient to retain the child-bearing function.
INDICATIONS TO UTERINE ARTERY EMBOLIZATION
singular or multiple fibroid nodes;
fibroid nodes of the intramural-serous localization having the size of up to 8 cm;
excessive hemmorhage caused by fibroids;
preparation for myectomy in the presence of a tumor of large dimensions.
UTERINE ARTERY EMBOLIZATION PERFORMED AT THE RCMC
SI "Republican Clinical Medical Center" offers this advanced therapeutical technique as an alternative to hysterectomy or myectomy. To the patient, risks are minimal. The procedure is carried out in close cooperation with gynecologists and X-ray endovascular surgeons.
The procedure involves general anesthesia. A catheter is introduced into the femoral artery, and a contrast medium is administered. Using X-ray control, the catheter is guided to uterine arteries. The vessels that deliver blood to myomatous nodes are blocked.
CONTRAINDICATIONS
node dimensions; pregnancy of over 20 weeks;
fibroid tumors of the intramural-serous localization having the size of up to 8 cm;
malignant neoplasms;
acute and chronic inflammatory processes;
pregnancy;
intolerance of the contrast medium.
PREPARING FOR THE EMBOLIZATION PROCEDURE
Visit a gynecologist for an examination and swab sample collection.
Have your blood and urine samples taken,
Have a coagulation test, X-ray fluorogrpaphy and ultrasonography of pelvic organs performed.
If required, additional testing may be appointed.
HOW TO GET EMBOLIZATION PROCEDURE AT THE RCMC
Call the Contact Center to make an appointment for a consultation with the head of the X-ray endovascular surgery Department A.S. Postoyalko.
Come to the consultation on time.
On the day of the procedure conclude a contract for the provision of paid services at the registry.
Pay the invoice at the cash desk of the RCMC or via ЕРИП (SSIS: Single Settlement and Information Space)
Branch services
The information presented in this Price List is for guidance only. Some services are provided only in conjunction with other services. Therefore, the final price may differ from those presented on this site when contacting a medical center to conclude a contract for the provision of medical services.
Эмболизация маточных артерий
Вверх
Услуга
цена для граждан:
беларуси
снг
остальных стран
Рентгеноэндоваскулярная эмболизация висцеральных сосудов (маточных артерий) - без учета R-контрастного вещества
3251 р. 60 к.
3785 р. 35 к.
3785 р. 35 к.