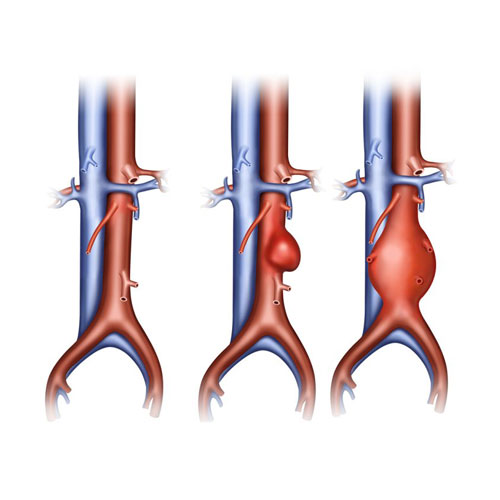 Aortography
Aortography is widely used as a highly informative radiopacity technique to study various sections of aorta, since it enables physicians to perform an accurate diagnostics in order to make decisions regarding subsequent treatment of the patient.
INDICATIONS FOR AORTOGRAPHY
aortic aneurism;
constriction or complete occlusion of aorta lumen;
suspected internal bleeding;
a congenital cardiac disorder where the arterial duct (Botallo duct) does not disappear in a newly born;
stenosis of a blood vessel mouth;
pathologies of aortal arch localization;
abnormal changes in the arch of a blood vessel resulting in complete occlusion of the vessel's lumen;
aortal valve dysfunction;
suspected tumor;
retroperitoneal space pathologies;
preparation for cardiovascular surgery procedures.
AORTOGRAPHY PROCEDURES PERFORMED AT THE RCMC
Using X-ray guidance, a catheter is introduced into femoral (or, if needed, into axillary or brachial) artery, and is guided to the aorta. Following that, a contrast medium is introduced. After that, a series of images of the area of interest at the artery is generated to reveal any malignant changes.
CONTRAINDICATIONS
renal insufficiency;
decompensated chronic disorders of the cardiovascular system;
third-stage hypertensive disease;
pregnancy;
cachexy;
intolerance of the X-ray station.
PREPARING FOR AORTOGRAPHY
Have a complete blood test, a blood biochemistry test and a coagulation test done.
The examination is performed on an empty stomach. There is no limitation to the intake of liquids.
HOW TO GET AORTOGRAPHY AT THE RCMC
Call the Contact Center to make an appointment for a consultation with the head of the X-ray endovascular surgery Department A.S. Postoyalko.
Come to the consultation on time.
On the day of the procedure conclude a contract for the provision of paid services at the registry.
Pay the invoice at the cash desk of the RCMC or via ЕРИП (SSIS: Single Settlement and Information Space)
Branch services
The information presented in this Price List is for guidance only. Some services are provided only in conjunction with other services. Therefore, the final price may differ from those presented on this site when contacting a medical center to conclude a contract for the provision of medical services.
Услуга
цена для граждан:
беларуси
снг
остальных стран
Аортография (АоГр) (оптирей-100,0)
624 р. 95 к.
769 р. 81 к.
769 р. 81 к.