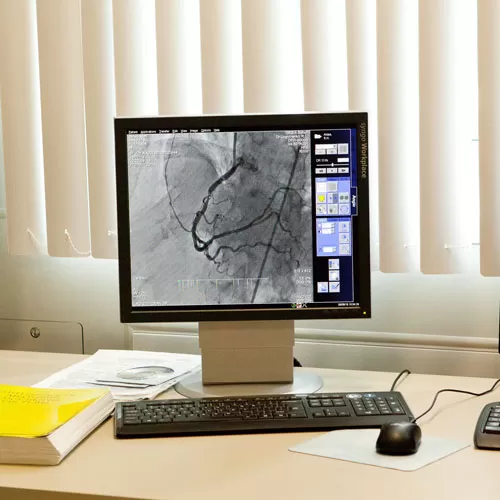 Radiofrequency ablation
This is a technique of therapy of pathologically changed heart tissues by cauterizing them with an electrical current of a specific frequency.
INDICATIONS FOR RADIO FREQUENCY ABLATION
ciliary arrhythmia;
ventricular tachycardia and AV nodal reentrant tachycardia;
auricular flutters;
WPW syndrome.
Auricular fibrillation (ciliary arrhythmia) is a widespread disorder. The disorder is the cause of every fifth case of cerebral accidents.
The most frequently occurring symptoms are irregular or rapid cardiac beat, irregular heartbeat, chest pains, dizziness and faintness. Ciliary arrhythmia must be treated! The disorder results in that not all the blood is pumped from precardiums.
The blood flow abnormality causes formation of thrombi and congestive heart failure.
RADIO FREQUENCY ABLATION PROCEDURES PERFORMED AT THE RCMC
The Angiocardiography Department of the RCMC offers therapy of ciliary arrhythmia and other heart disorders with the use of a modern technique -- radiofrequency catheter ablation.
The technique makes it possible to cure the disorder without having to resort to an extensive intervention. Radio frequency ablation serves to restore normal cardiac function by cauterizing a small area of cardiac tissue. This minimally invasive intervention allows to cure arrhythmia. To determine the area of intervention, an electrophysiological examination is performed. The procedure itself uses special catheters that are introduced through peripheral vessels in the pelvic area. After the catheter has advanced to the precardium, a high frequency electrical current is applied to its tip. This neutralizes the abnormal activity.
The therapeutic procedure is carried out under local anesthesia. The procedure is performed under total X-ray control, at a specially equipped surgical facility.
CONTRAINDICATIONS
occurrence of an atrial or a moving left ventricular thrombus;
pregnancy;
decompensation of the underlying disorder;
acute and emergency conditions;
severe metabolism abnormalities;
intolerance of the contrast medium;
chronic renal insufficiency;
uncontrollable arterial hypertension.
PREPARING FOR RADIO FREQUENCY ABLATION
One to two weeks before the procedure, blood and urine tests, a coagulation test, a 12-limb ECG, an X-ray imaging of the thoracic cage and an echocardiography tests shall be performed. If required, additional testing is appointed.
Based on the physician's recommendation, suspend the intake of certain drugs.
Do not eat food or liquids on the date of operation.
HOW TO GET RADIO FREQUENCY ABLATION AT THE RCMC
Call the Contact Center to make an appointment for a consultation
Come to the consultation on time.
On the day of the procedure conclude a contract for the provision of paid services at the registry.
Pay the invoice at the cash desk of the RCMC or via ЕРИП (SSIS: Single Settlement and Information Space)
Branch services
The information presented in this Price List is for guidance only. Some services are provided only in conjunction with other services. Therefore, the final price may differ from those presented on this site when contacting a medical center to conclude a contract for the provision of medical services.
Радиочастотная аблация
Вверх
Услуга
цена для граждан:
беларуси
снг
остальных стран
Инвазивное эндокардиальное электрофизиологическое исследование (ЭФИ) + радиочастотная аблация (РЧА) очага аритмии (без использования системы навигации)
2287 р. 98 к.
3774 р. 32 к.
3774 р. 32 к.
Инвазивное эндокардиальное электрофизиологическое исследование (ЭФИ) + радиочастотная аблация (РЧА) очага аритмии (с использованием системы навигации и с проведением трансептальной пункции).
3417 р. 05 к.
5654 р. 87 к.
5654 р. 87 к.
Инвазивное эндокардиальное электрофизиологическое исследование (ЭФИ) + радиочастотная аблация (РЧА) очага аритмии (с использованием системы навигации и без проведения трансептальной пункции).
3195 р. 21 к.
5286 р. 36 к.
5286 р. 36 к.