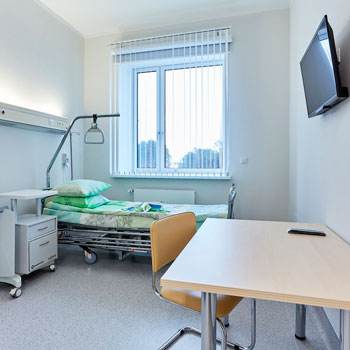 The Therapy Department features a neurology unit and has the capacity of 20 beds for 24-hour patient stay. Private and semi-private rooms are equipped with dedicated sanitary amenities, an air conditioning system, a refrigerator and a TV set, and ensure comfortable stay of patients during diagnostics and treatment.
PRIMARY OBJECTIVES OF THE THERAPY DEPARTMENT OF RCHCC
Our Department is a multidisciplinary division which provides diagnostics and treatment of patients of all the therapeutic specialties, as well as patients affected by neurology diseases and cardiovascular system disorders.
Our highly skilled medical professionals provide specialized medical care to patients affected by disorders of breathing organs, the blood circulation system, the musculoskeletal system, the locomotor apparatus, the digestive tract, the endocrine system and kidney diseases, as well as neurology disorders.
Examinations are carried out with the use of modern medical technologies: we offer a bread spectrum of laboratory studies, all types of ultrasonic and endoscopic examinations, high-accuracy X-ray procedures including computer-assisted X-ray and magnetic resonance imaging, densitometry and tracer studies.
Treatment performed in accordance with current national and international procedures and guidelines, with consideration to each patient's individual peculiarities.
The wide diagnostic capabilities of the Center make it possible to detect the disorder early and develop an effective treatment and rehabilitation program.
If necessary, we engage specialized officers of our Center and external consultants in the diagnostic and therapeutic process.
Among our consultants are:
Nikolai Fedorovich Soroka, Head of Internal Diseases Department 2 of Belarusian State Medical University, Dr. habil. med., Professor
Elena Anatolievna Lapteva, Head of Pulmonology and Phthisiology Department of Belarusian Medical Academy of Postgraduate Education, Dr. habil. med.
Oleg Valentinovich Kalachik, Head of the Republican Center for Nephrology, Renal Replacement Therapy and Kidney Transplantation, Dr. habil. med.
Diligent and friendly care, individual approach to each patient and highly skilled medical care are the ground rules of the Therapy Department.
Excellent coordination within the team, smooth and effective performance of medical orders by nurses and sensitive attitude of junior medical staff are a guarantee of comfortable stay and fast recovery of patients!
TERMS OF SERVICE PROVISION
Examination and treatment of patients is provided on a fee basis (to assigned patients), as well as under health care service and insurance contracts. Indications for hospitalization, necessary examinations and the duration of hospitalization are determined during an advisory reception.
Therapy specialist consultations
Pre-admission consultations are held by previous appointment, on Tuesdays and Thursdays at 13:00 till 14:00, at office Г 114.
To make an appointment for a consultation and get background information, you can use the services of the Contact Center: 8 (017) 543-44-44 and 8 (029) 543-44-45.
Contact information of the Therapy Department

8 (017) 543-43-29 – Head of the Department Tatiana Semyonovna Kozel
8 (017) 543-43-28 – Staff Room
В отделении работают
Kozel Tat'yana Semenovna
Head of the therapeutic department with neurological beds
Malkov Alexey Borisovich
Neurologist
Khamitsaeva Natalia Vladimirovna
Doctor-therapist