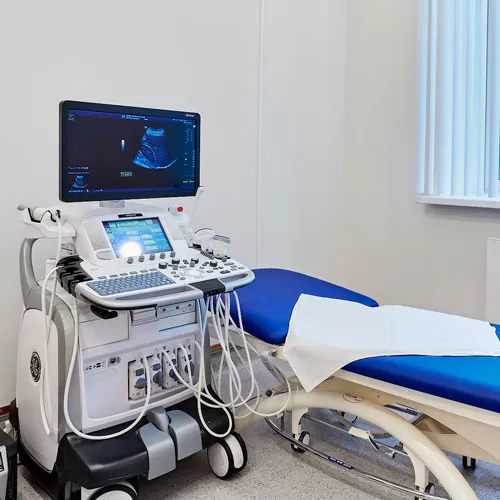 Functional diagnostic of cardiologic disorders
Our Center offers a comprehensive range of diagnostic and therapy services to patients affected by arterial hypertension, various forms of coronary heart diseases, heart rhythm disturbance and chronic cardiac insufficiency.
As part of cardiological services, we perform a wide spectrum of examinations, functional diagnostic studies and X-ray and endovascular diagnostic procedures.
INDICATIONS TO THE PERFORMANCE OF FUNCTIONAL DIAGNOSTIC OF CARDIOLOGIC DISORDERS
Visualization of heart function, analysis of the structure and functional soundness of heart valves and the heart in general;
Estimation of heart muscle thickness, determination of the affected area of myocardium following an infarction and assessment of the adequacy of blood supply to the cardiac muscle;
Evaluation of coronary artery permeability;
Diagnosis of potential heart rate abnormalities.
FUNCTIONAL DIAGNOSTIC STUDIES IN CASES OF CARDIOLOGY DISORDERS PROVIDED BY THE RCMC
Diagnosis of sleeping disorders. There is a direct link between breathing disorders during sleep and the frequency of blood pressure increase incidents, increased risk of heart disorders and cerebral accidents. In essence, therapy of certain breathing disorders during sleep may actually reduce the chance of development of some cardiovascular disorders.
Brachiocephalic vessel examination. According to statistical information, brachiocephalic vessels are among systems that are most prone to artherosclerotic changes. Complete obstruction of these vessels results in a cerebral accident.
External breathing examination. This study allows to reveal disorders related to bronchial conductance impairments or decrease of lung tissue elasticity, and to perform differential diagnosis of allergic and non-allergic lung disorders.
Holter (ECG) monitoring. This is used in cases when the patient had experienced heart problems during the day either in a rested state, after physical exercises or due to certain events, but conventional ECG performed some time after that revealed no abnormalities.
CONTRAINDICATIONS
There are no absolute contraindications.
PREPARING FOR THE TEST
Diagnostic of sleeping disorders: not required.
Brachiocephalic vessel examination:
Do not drink alcohol the day before the examination;
Do not drink coffee or tea on the day of the procedure;
Refrain from eating two hours before the examination.
If you regularly take any cardiac or vascular drugs, consult your physician to find out whether you would need to suspend their administration for some time before the examination;
Refrain from eating before the test if possible;
Please bring along the information on previous brachicephalic artery examinations.
External breathing examination:
The testing is performed in the morning, on an empty stomach.
Please refrain from drinking coffee, strong tea or hot chocolate before the test.
Do not smoke before the test.
Limit physical load and exclude mental stress.
Obtain advice of the consulting physician on the suspension of use of pharmaceuticals before the test.
Please have the results of previous external respiration tests on hand.
Holter (ECG) monitoring:
Men shall shave chest hair. Bring a knitted short sleeve t-shirt.
Women shall not wear a dress, but put on comfortable clothes (these will be worn during the 24 hour period).
If the patient uses a cardiac pacemaker, they should bring along the most current programming data.
HOW DO I GET FUNCTIONAL DIAGNOSTICS OF HEART DISORDERS AT THE RCMC?
The suite of diagnostic studies is appointed by the consulting physician either to an inpatient or at an outpatient clinic. If the patient is undergoing therapy at the Cardiology Department of the RCMC, functional diagnostics will be performed at the inpatient facilities of the Center.
A patient may also use the diagnostic services of the RCMC in accordance with a referral issued by an outpatient clinic physician.
Conclude a contract for the provision of paid services at the registry
Pay the invoice at the cash desk of the RCMC or via ЕРИП (SSIS: Single Settlement and Information Space)
Come to the consultation on time.
Branch services
The information presented in this Price List is for guidance only. Some services are provided only in conjunction with other services. Therefore, the final price may differ from those presented on this site when contacting a medical center to conclude a contract for the provision of medical services.
Функциональная диагностика в кардиологии
Вверх
Услуга
цена для граждан:
беларуси
снг
остальных стран
ФВД без функциональных проб (стандартная программа)
30 р. 80 к.
46 р. 20 к.
46 р. 20 к.
ФВД с функциональной пробой (расширенная программа)
30 р. 10 к.
45 р. 15 к.
45 р. 15 к.
ХМ-ЭКГ (холтеровское мониторирование ЭКГ)
65 р.
133 р.
133 р.
Электрокардиограмма без функциональных проб
20 р. 50 к.
30 р. 75 к.
30 р. 75 к.
Электрокардиограмма c функциональными пробами (за одну пробу)
32 р. 50 к.
48 р. 75 к.
48 р. 75 к.
Тредмил-тест (ЭКГ исследования с дозированной физической нагрузкой)
78 р. 80 к.
118 р. 20 к.
118 р. 20 к.
Чреспищеводная ЭХО-КГ
39 р. 50 к.
126 р. 88 к.
126 р. 88 к.
ЭЭГ с функциональными пробами
50 р.
108 р.
108 р.