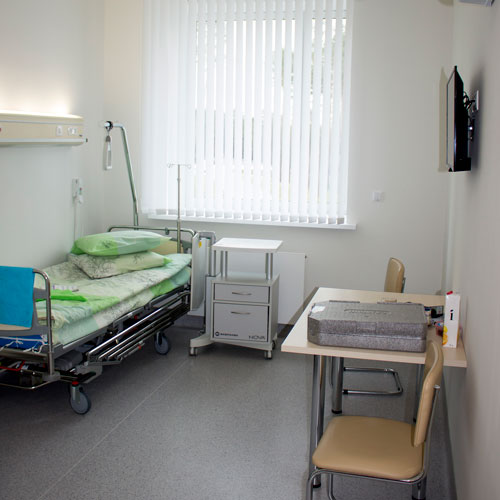 The Admission Office
The Admission Office is a structural subdivision of SI "Republican Clinical Medical Center" which provides medical services 24 hours a day.
FUNCTIONS OF THE ADMISSION OFFICE OF THE RCMC
Registration and recording of hospitalized patients and outpatients;
Initial medical specialist examination;
Prehospital diagnostics of emergency patients performed with the use of advanced laboratory and instrumental techniques (ECG, EGD, radiology studies);
Providing emergency and health care;
Narrow specialist consultations.
The Office is outfitted with modern diagnostic and therapeutic equipment: an electrocardiography station, ultrasonography stations, a defibrillator, a lung ventilator, emergency medical service cases, etc.
The Admission Office features a nurse's station, a diagnostic room, an examination room, a procedure room and a decontamination station.
The Office is located at the ground level, in Block B.
To register a medical record at the Admission Office, please have the following on hand:
Passport;
Health care service provision contract;
Payment receipt under the concluded contract;
The referral from Head of the Inpatient Facility of the RCHCC signed by the Administration (Deputy Medical Director or Medical Director of the Center).
An excerpt from your medical record provided by your local community clinic (information on inoculations, previous diseases, operations, outpatient medical care, information on the intolerance to medications and allergic reactions), or copies of discharge summaries from previous hospitalization.
Data of laboratory analyses and diagnostic studies (ECG, X-ray imaging of the thoracic cage, ultrasonography, EGD and other test results) that were appointed by the Deputy Head of the Inpatient Facility to admit for hospitalization.
To have your sick leave properly formalized, please check the legal name of your employer.
The patient shall also provide information on the actual place of their residence, the contact telephone number, as well as full name and telephone number of a relative or another person who the patient authorizes to be informed about the state of their health.
Friendly and professional individual care is our hallmark.
Branch services
The information presented in this Price List is for guidance only. Some services are provided only in conjunction with other services. Therefore, the final price may differ from those presented on this site when contacting a medical center to conclude a contract for the provision of medical services.
Услуга
цена для граждан:
беларуси
снг
остальных стран
Услуги приемного отделения
30 р.
50 р.
50 р.