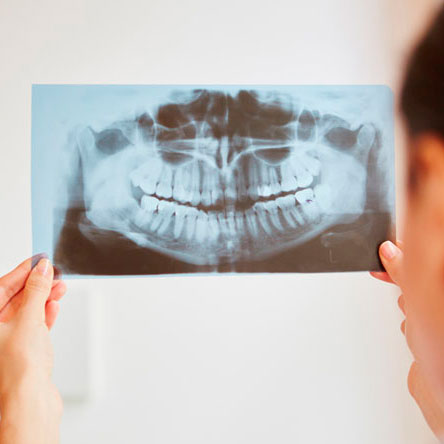 Dental services
We perform treatment of tooth decay and noncarious dental injuries, endodontal care of all kinds, and dental restoration, that is, regeneration of tooth color, form and function.
INDICATIONS TO SEEKING DENTAL SERVICES
swollen gum or gum fistula;
toothache;
jaw pains;
loosening of teeth;
lost filling;
chipping a tooth;
increased sensitivity of teeth;
darkening of teeth, appearance of spots on tooth enamel, foul breath;
bleeding gums.
THE ADVANTAGES OF DENTAL SERVICE PROVIDED AT THE RCMC
We use sophisticated novel equipment to treat oral cavity diseases

Dental treatment units and equipment used at our Medical Center are of the high-end class. These are made with the use of the most advanced technologies and original design solutions. Dental units provide excellent comfort.

Therapy procedures at Vektor machine serve to arrest the development of periodontal diseases and relieve their symptoms. Repeated procedures stabilize the condition of gums for a long time. The machine is pretty much painless and does not cause injury to soft tissues; it acts to carefully cleanse periodontal pockets of up to seven mm deep!
High-quality dental restoration materials

Specialists of our Center use main groups of filling materials of the major manufacturers for restorative dentistry and for treatment of dental hard tissues.

All the supplied materials have relevant certificates, they were attested and are permitted for use in the Republic of Belarus.

Endodontal care is provided with the use of hand and engine driven instruments made of the robust and flexible nickel-titanium alloy. Procedures are controlled with a root canal apex locator, and are followed by obturation by gutta-percha points or thermophils. Dental diagnostics and treatment are monitored with the use of radiological methods.

Modern filling techniques provide for the use of various types of gutta-percha pointers and root canal sealers that ensure that the root canal is filled to a controlled depth.
Instrument sterilization is performed with mandatory sterilization quality control.

We are one of the very few Belarusian medical institutions where tips undergo thorough three-stage sterilization.
All kinds of outpatient surgical services

We use high-quality effective anesthetics.
Diagnostics and treatment process monitoring with the use of laboratory and radiology study methods.

We use the differential fluorescence technique, a dental X-ray station, an orthopantomograph, a computerized tomograph, and a nuclear magnetic resonance tomograph.

We also offer a whole new level of diagnostics to guarantee a perfect result -- 3D computed tomography provided by our dental tomograph. The scope of application of this device is broad, it includes dentistry, dentofacial surgery, oncology of the facial region, otolaryngology, trauma surgery of the dentofacial area and implantology. A dental panoramic radiogram is no match for computed tomography.
PREPARING FOR THERAPEUTIC PROCEDURES AND MANIPULATIONS
Have a snack shortly before the visit.
Brush your teeth thoroughly.
Refrain from drinking alcohol one day before the visit.
For women: please inform the medical specialists if you are pregnant.
HOW TO GET DENTAL SERVICE AT THE RCMC
Call the Contact Center to make an appointment
Conclude a contract for the provision of paid services at the registry
Pay the invoice at the cash desk of the RCMC or via ЕРИП (SSIS: Single Settlement and Information Space)
Come to the consultation on time.
Attention! The dental therapist will answer all your questions regarding dental care and prosthetics during your visit.

Cost of services depends on the scope of performed medical manipulations and the cost of consumables.