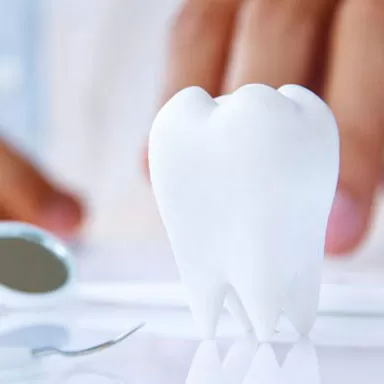 Professional prophylaxis of dental diseases
Professional prophylaxis of dental diseases is an excellent way to ensure that you rarely need the services of a dentist.
INDICATIONS TO PROFESSIONAL CLEANING OF THE ORAL CAVITY
Presence of dental deposits;
Foul breath;
Increased sensitivity of teeth;
Bleeding gums;
Prevention of periodontitis and gingivitis development.
PROPHYLAXIS OF DENTAL DISEASES AT THE RCMC
Professional cleaning of teeth helps to maintain mouth cavity hygiene. This prophylactic procedure, if performed once every six months, will allow to maintain teeth in an ideal condition, and prevent the development of tooth decay and gum diseases.
The program involves:
ultrasonic removal of dental deposits;
removal of dental deposits with a blasting machine;
treatment of dental roots by Vector machine;
polishing teeth and coating them with a fluorine-containing compound;
sealing dental fissures;
instructing on oral cavity procedures.
By undergoing this comfortable professional cleaning procedure, you will avoid future dental problems. Care about a healthy smile is a wise investment for many years to come! You will forget abut tooth decay and its complications.
Dental care professionals of our Center will cleanse your teeth of plaque, help you bring back your charming smile, and will select optimal medication and help you choose supplementary hygiene products.
PREPARATION
Not required.
HOW TO GET PROFESSIONAL CLEANING OF THE ORAL CAVITY AT THE RCMC
Call the Contact Center to make an appointment
Conclude a contract for the provision of paid services at the registry
Pay the invoice at the cash desk of the RCMC or via ЕРИП (SSIS: Single Settlement and Information Space)
Come to the consultation on time.
Cost of services depends on the scope of performed medical manipulations and the cost of consumables.