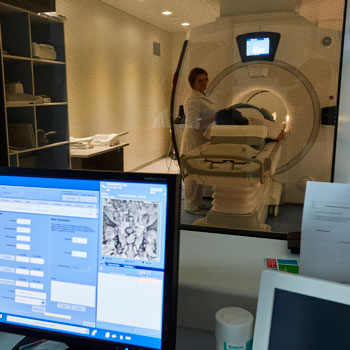 The X-Ray Department of the Center is fitted out with sophisticated latest generation expert-class equipment including the unique dual-energy low-doze CT-scanner, Revolution CT produced by General Electric, the first such apparatus to operate in any of the ex-USSR countries; the robot-assisted X-ray digital diagnostic apparatus Multitom Rах produced by Siemens (currently the only such machine operating in our country); the Optima 450W 1.5T MRI scanner produced by General Electric; the digital mammography complex Senographe Essential produced by General Electric; the X-ray bone densitometer Lunar iDXА produced by General Electric; Logic E9 ultrasonographs produced by General Electric; and the X-ray dental CT-scanner Galileos produced by Siemens.
PRIMARY OBJECTIVES OF THE X-RAY DEAPRTMENT OF THE RCHCC
The Department offers:
all types of conventional X-ray imaging;
functional studies of the osteoarticular apparatus;
computer-assisted X-ray and magnetic resonance imaging of the head, torso, heart and vessels and the locomotor apparatus including:

dual-energy spectral computer tomography in cases of kidney stone disease which involves chemical analysis of concrements;
estimation of calcium score of coronary artery using computer tomography methods

digital mammography which uses the volumetric tomosynthesis function and involves contrast enhanced spectral mammography and makes it possible to detect nonpalpable mammal gland neoplasms;
MRT-mammography (follows and refines X-ray mammography results);
ultrasonography of abdominal cavity organs and kidneys, pelvic organs of men and women, scrotum organs, salivary glands, thyroid gland, mammal glands, joints and vessels;
ultrasonically-assisted needle liver biopsy of mammal and thyroid gland neoplasms, superficial lymph glands and soft tissues;
osteodensimetry including standard zone skeletal system densitometry in cases of initial bone loss and osteoporosis, total body composition examination with color flow mapping and WHO body-weight index classification, morphometry of vertebral bodies, analysis of ten-year probability of femoral fracture, etc.
Drastic advancements in the field of digital diagnostic imaging have broadened the spectrum of diagnostic capacities considerably. This has made the concept of "blank spots" associated with conventional X-ray imaging obsolete; and today it is possible to achieve acceptable visualization of virtually all parts of the human body with minimum radiation exposure, and detect any abnormal changes.
All-digital imaging tools make it possible to achieve:
high quality of images;
2, 3 and 4-dimensional images of internal organs, vessel, bones and joints;
prompt examination and generation of results;
the possibility to record the results on digital media (CD, DVD, etc).
Our Department's professionals, radiodiagnosis specialists of the highest and first Qualification Grade and holders of Habilitation degree in Medicine perform diagnostics procedures in strict adherence to international regulations and procedures, obey the Physician's Code and international quality standards.
TERMS OF SERVICE PROVISION
Specialists of the X-Ray Deaprtment offer a range of outpatient consultation services to assigned patients, as well as to other patients based on health service provision contracts.
For the information of patients: Studies using the CT-scanner, the MRI scanner, X-ray mammography examinations and osteodensimetry studies are only performed on the basis of a referral for the respective king of examination stating the scope and purpose of the examination.
MRT examination involving intravenous contrast agent administration is not performed on outpatients.
X-ray computer tomography of any area involving intravenous contrast agent administration including CT coronarography, CT angiography and aortography are performed on an empty stomach, based on previous assessment of the results of serum creatinin content analysis (biochemical assay).
To make an appointment for a paid appointment and get background information, you can use the services of the Contact Center: 8 (017) 543-44-44 and 8 (029) 543-44-45.
They work in the department
Nikitina Larisa Ivanovna
Head of the X-ray department
Bobrik Olga Konstantinovna
Radiologist
Gnipel' Sergej Viktorovich
Doctor of radiation diagnostics
Kohl Mikhail Viktorovich
Radiologist
Letetskaya Oksana Gennadievna
Radiologist
Malevich Elvira Evgenievna
Radiologist
Yanyshevskaya Galina Konstantinovna
Radiologist
Zhokha Julia Konstantinovna
Radiologist
Alexandrovich Alexander Selvestrovich
Doctor of radiation diagnostics
Klimovich Marina Ivanovna
Radiologist