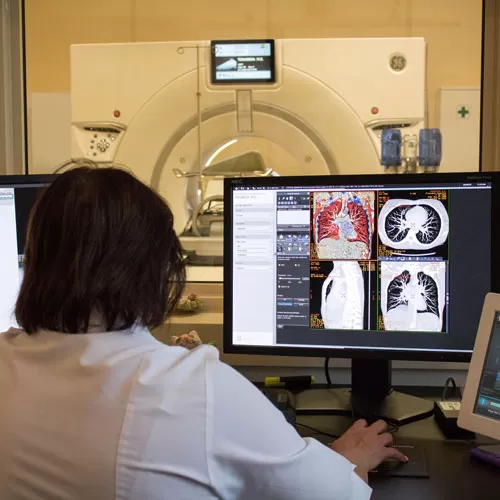 X-ray diagnostics
X-ray diagnostics is performed using top-of-the-line latest generation equipment of the expert and first class. All-digital computerized visualization facilities ensure high quality of diagnostic studies, and serve to refine routine studies and supplement diagnostic procedures through sophisticated solutions.
THE X-RAY DIAGNOSTIC CAPABILITIES OF THE RCMC
The Center offers:
all types of conventional X-ray imaging;
functional studies of the osteoarticular apparatus;
Magnetic resonance imaging of the head, torso, heart, and blood vessels. This includes the use of such novel techniques as dual-energy spectral computer kidney tomography in cases of urinary stone disease which involves analysis of the chemical composition of concrements for subsequent selection of treatment tactics, and estimation of calcium score of coronary artery using computer tomography methods;
Digital mammography features the volumetric tomosynthesis function used to detect nonpalpable mammal gland neoplasms at early pre-clinical phase of studies;
Ultrasonography of abdominal cavity organs with the capability to perform elastography of liver, retroperitoneal space, kidneys, pelvic organs of men and women, scrotum organs, salivary glands, thyroid gland, mammal glands, large joints and vessels;
Ultrasonically-assisted needle liver biopsy of mammal and thyroid gland neoplasms, superficial lymph glands and soft tissues;
x-ray densitometry including standard zone densitometry to reveal initial bone loss and osteoporosis, total body composition examination with color flow mapping and WHO body-weight index classification, morphometry of vertebral bodies, analysis of ten-year probability of femoral fracture, etc.;
2D and 3D X-ray imaging of jaw area to select and plan prosthetic dentistry operations.