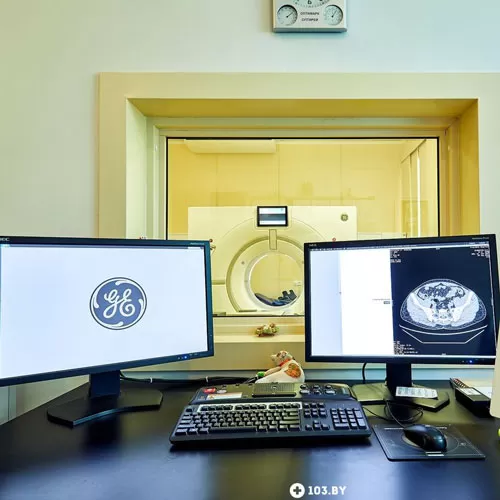 X-ray computer tomography (CT)
X-ray computer tomography (CT) is a layer-by-layer examination of internal organs of human body performed by way of a circular scan with a narrow beam of X-ray radiation.
Unlike a conventional rentgenogram which is a two-dimension image, the image produced by CT is three-dimensional (volumetric). A physician is able to view both specific slices and the whole picture.
An important advantage of computer tomography as compared to X-ray imaging is the capacity to examine all the parts of the body: head, chest, stomach, lesser pelvis, limbs, etc.
INDICATIONS FOR COMPUTER TOMOGRAPHY PROCEDURE
CT offers a unique opportunity to study, non-invasively and on a living individual, anatomical structures of internal organs that have a diameter of as little as a few millimeters. Broad diagnostic capacity of CT is also apparent when examining injuries since the technique allows to detect solution of bone continuity or post-injury changes. This technique is widely used for the diagnosis of acute and chronic pains in the spinal cord or joints. High-resolution CT technologies expanded diagnostic capabilities and ghe ability to identify inflammatory and oncologic disorders of the thoracic cage and abdominal cavity organs. CT is the technique of choice in the examination of patients affected by ENT disorders. The introduction of CT technology made a revolution in medical science and practice by enabling accurate assessment of substances and blood vessels of the head, heart, liver and kidneys. The ability to generate three-dimensional, multi-planar images offers clinicists a considerable advantage in the assessment of localization and spread of a pathologic process, selection of treatment tactics and planning operations. CT-angiography (CTA) plays a special part as part of CT examination methods. This technique makes it possible to study the anatomic condition of blood vessels in close detail and to reveal abnormal change in them. Unlike conventional X-ray angiography, CTA is a more informative method of examination of blood vessels and motion of blood which also involves a lower exposure of the patient.
General indications to a CT procedure are:
oncological examination: detection of tumors of internal organs, brain, bones and soft tissues;
determining the stage of the oncolological process, revealing metastases and establishing information concerning the spread of the process with the aim of developing a treatment tactic;
monitoring the effectiveness of therapy after radiotherapy or chemotherapy;
revealing acute and chronic disorders of the thoracic cage organs, abdominal cavity organs and retroperitoneal space organs;
preoperative examination of organs and vessels;
postoperative monitoring of the status of organs and tissues;
injuries and their consequences;
monitoring changes against data obtained using other study methods (including an X-ray examination or ultrasonography) that are insufficient for interpretation purposes due to lack of data.
Apart from the above, spiral multislice computer-assisted tomographic scanners (MSCT) are employed to successfully diagnose kidney stones, atherosclerosis, lung embolism, large blood vessel dissections and tumors, vascular system development anomalies, etc.
Low-exposure MSCT is a method of lung examination which is both faster and safer than standard CT. This technique gains widespread acceptance in cancer screening assays of persons over 55 years old that are affected by risk factors.
To improve the accuracy of diagnostics, the "enhanced" CT method is applied which involves introduction of a special dye (contrast medium). This improves image contrast and makes vascular structures, tumors and metastases clearly visible.
CONTRAINDICATIONS
Absolute contraindications:
Pregnancy (regardless the gestational age);
patient's body weight exceeding maximum load limitations of the tomographic scanner table (in our Center, this is limited to 150 kg).
Relative contraindications:
Breast feeding;
Diabetes mellitus;
Thyroid gland disorders;
Mental disorders;
Intolerance to pharmaceuticals used as the contrast medium (the examination may be performed without administering the contrast).
Contraindications to administration of contrast media:
Intolerance to iodine-containing preparations;
Pregnancy and lactation;
liver and kidney disorders accompanied by dysfunction of the organs;
Diabetes mellitus.
PREPARING FOR THE COMPUTER TOMOGRAPHY PROCEDURE
We recommend to stay at our inpatient facilities when undergoing an examination with the use of a contrast medium. The examination is performed on an empty stomach, and subject to normal blood serum creatinine levels and absence of an allergy to iodine. The quantity of the contrast medium is determined by the physician depending on the specific examination. Contrast medium cost is charged separately.
HOW DO COMPUTER TOMOGRAPHY AT THE RCMC
To be eligible for the examination, the patient must have a physician's referral.
Please call the Contact Center and book an appointment for the examination
You need to complete and sign a paid service contract at the Reception (present a physician's referral to the receptionist)
Pay the bill at the RCMC pay office, or through the ERIP electronic system
Get a CT scan at the appointed time.
Branch services
The information presented in this Price List is for guidance only. Some services are provided only in conjunction with other services. Therefore, the final price may differ from those presented on this site when contacting a medical center to conclude a contract for the provision of medical services.
Рентгеновская компьютерная томография
Вверх
Услуга
цена для граждан:
беларуси
снг
остальных стран
КТ- урография (с контрастным усилением)+спец. методы обработки
315 р. 13 к.
500 р. 16 к.
500 р. 16 к.
КТ- урография - с контрастным усилением - с анализом химического состава почечных камней - (без учета контрастной среды)+спец. методы обработки
367 р. 79 к.
587 р. 92 к.
587 р. 92 к.
КТ-ангиография+спец. методы обработки
339 р. 36 к.
540 р. 55 к.
540 р. 55 к.
КТ-аортография (в т.ч. TAVI)+спец. методы обработки
339 р. 36 к.
540 р. 55 к.
540 р. 55 к.
КТ-брахиоцефальных артерий (КТ-БЦА)+спец. методы обработки
339 р. 36 к.
540 р. 55 к.
540 р. 55 к.
КТ-коронарография+спец. методы обработки
369 р. 28 к.
589 р. 41 к.
589 р. 41 к.
РКТ брюшной полости без контрастного усиления+спец. методы обработки
156 р. 62 к.
260 р. 54 к.
260 р. 54 к.
РКТ брюшной полости с контрастным усилением+спец. методы обработки
227 р. 68 к.
354 р. 42 к.
354 р. 42 к.
РКТ головного мозга без контрастного усиления+спец. методы обработки
122 р. 31 к.
203 р. 34 к.
203 р. 34 к.
РКТ головного мозга с контратным усилением+спец. методы обработки
193 р. 06 к.
296 р. 71 к.
296 р. 71 к.
РКТ грудной полости без контрастного усиления+спец. методы обработки
148 р. 70 к.
247 р. 34 к.
247 р. 34 к.
РКТ грудной полости с контрастным усилением+спец. методы обработки
211 р. 53 к.
327 р. 49 к.
327 р. 49 к.
РКТ костей и суставов без контрастного усиления+спец. методы обработки
137 р. 71 к.
229 р. 04 к.
229 р. 04 к.
РКТ костей и суставов с контрастным усилением+спец. методы обработки
206 р. 98 к.
319 р. 91 к.
319 р. 91 к.
РКТ лицевого черепа без контрастного усиления
103 р. 96 к.
172 р. 78 к.
172 р. 78 к.
РКТ лицевого черепа с контрастным усилением+спец. методы обработки
163 р. 51 к.
247 р. 47 к.
247 р. 47 к.
РКТ отдела позвоночника без контрастного усиления+спец. методы обработки
122 р. 30 к.
203 р. 34 к.
203 р. 34 к.
РКТ отдела позвоночника с контрастным усилением+спец. методы обработки
193 р. 03 к.
296 р. 67 к.
297 р. 03 к.
РКТ позвоночного сегмента без контрастного усиления+спец. методы обработки
82 р. 73 к.
137 р. 39 к.
137 р. 39 к.
РКТ позвоночного сегмента с контрастным усилением+спец. методы обработки
130 р. 93 к.
193 р. 16 к.
193 р. 16 к.
РКТ таза без контрастного усиления+спец. методы обработки
106 р. 87 к.
177 р. 63 к.
177 р. 63 к.
РКТ таза с контрастным усилением+спец. методы обработки
168 р. 79 к.
256 р. 27 к.
256 р. 27 к.
РКТ шеи без контрастного усиления+спец. методы обработки
122 р. 30 к.
203 р. 34 к.
203 р. 34 к.
РКТ шеи с контрастным усилением+спец. методы обработки
193 р. 03 к.
296 р. 67 к.
296 р. 67 к.