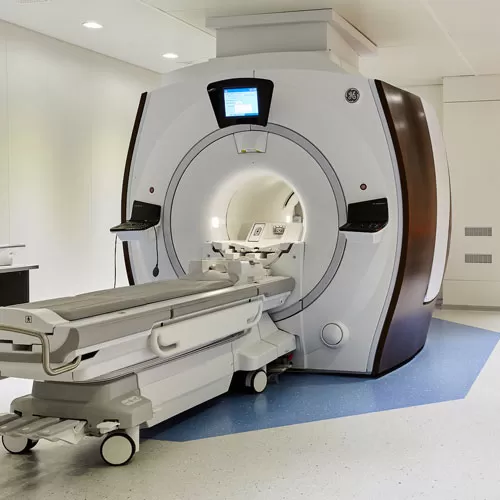 Magnetic resonance imaging
Magnetic resonance imaging (MRI) is a study of the composition of the body based on the phenomenon of nuclear magnetic resonance, which does not require any invasive intervention.
Resonance develops as a magneto-electric response of hydrogen atoms to their exitation by the combination of electromagnetic waves and an electrical current produced by the MRI machine. MRI is an exceptionally helpful, harmless and highly informative study technique which allows to generate images of thin layers of human body in any section.
MR images reflect soft tissues: muscles, cartilages, layers of fat, etc., better than CT. By using special algorithms, MR-angiography can be performed without the need to introduce contrast medium. MRI is appointed for in-detail diagnostics of disorders of, above all else, the brain, spine, soft tissues, joints and blood vessels.
INDICATIONS FOR MAGNETIC RESONANCE IMAGING
1. Neurology and neurosurgery
cerebral and spinal tumor;
impairment of cerebral circulation;
cranium and brain injuries;
infectious diseases of the central nervous system;
neurodegenerative and demyelinating diseases of the brain and spinal cord;
paroxysmal states, epilepsy;
headache;
developmental brain and spinal cord malformations.
2. Traumatology
injuries and disorders of joints;
injuries and inflammatory conditions of spinal cord;
degenerative-dystrophic changes of spinal cord;
bone and soft tissue tumors.
3. Urinology and gynecology
tumors of the urinary bladder and prostate gland;
inflammatory conditions of the urinary bladder and prostate gland;
inflammatory and oncological disorders of women's genital organs (uterus, appendages, etc.).
4. MR-angiography
detection of blood tumors;
detection of arterial-venous malformations;
thrombosis of major arteries of the head and neck;
thrombosis of venous sinuses (MR-venography);
detection of anomalies and development peculiarities of head and neck vessels.
5. Mammology
early detection of mammal gland cancer
THE PROCEDURE OF MAGNETIC RESONANCE IMAGING
The patient is placed into the MRI station. The patient's position within the scanner bore depends on the studied area. The studied areas also determine the duration of the procedure. A MRI examination takes 15 to 45 minutes
CONTRAINDICATIONS
Absolute contraindications
presence of implanted electronic devices, such as a cardiac pacemaker;
clip forceps installed into the cranial cavity;
ferromagnetic implants in the inner ear;
any metal foreign objects in the patient's body present in the studied area, e.g., brackets, would create interference and deteriorate the quality of the resulting image;
patient's weight exceeding structural parameters of the scanner (over 110 kg) or waist circumference (over 210 cm) exceeding scanner's bore diameter (over 70 cm);
presence of Ilizarov frame or metal shrapnel.
Relative contraindications:
first tree months of pregnancy;
claustrophobia;
presence of non-ferromagnetic implants of the inner ear, neural stimulators, artificial heart valves, an insulin pump, etc.;
epilepsy;
critical condition of the patient requiring constant use of an artificial respirating unit or a pulse monitor;
inadequate state of the patient (alcoholic or drug intoxication, psychiatric disturbance);
high body temperature (over 38 degrees Celsius);
presence of tattoos in the studied area (tattoo inks may contain metal particles).
Contraindications to the introduction of gadolinium-based contrast mediums:
intolerance to gadolinium-based pharmaceuticals;
pregnancy and breast feeding;
acute and chronic renal insufficiency.
If the patient has any implanted metal objects (pins, plates, joint prostheses, etc.), certificates or instructions for these items must be presented at the consultation. Usually, these documents state whether it is permitted to perform a MRI procedure with the item present in the patient's body.
There is no standard MRI procedure in cases when there are vascular stents, bioorganic heart valves or non-ferromagnetic implants installed in the patient's body. Excluding cases of vital necessity, it is not advised to perform MRI procedures sooner than three to six months after installation of the device, so that the item may "assimilate" within the body.
In certain cases, the study may be carried out in the presence of relative contraindications subject to observance of proper safety precautions and in the absence of any other alternative diagnostics technique. In such cases, the decision on whether it is advisable to carry out an MRI procedure is referred to the MRI specialist.
PREPARING FOR THE MRI PROCEDURE
Contrast-enhanced studies are performed on an empty stomach, and with a normal level of creatinine in blood serum. The quantity of the contrast medium is determined by the physician depending on examination results. Contrast medium cost is charged separately.
HOW DO I GET AN MRI EXAMINATION AT THE RCMC
To be eligible for the examination, the patient must have a physician's referral. Please note: the weight of the patient must not exceed 110 kg!
Please call the Contact Center and book an appointment for the examination
You need to complete and sign a paid service contract at the Reception or, if you have a physician's referral, present it to the receptionist.
Pay the bill at the RCMC pay office, or through the ERIP electronic system.
Show up for MRI procedure at the appointed time.
Branch services
The information presented in this Price List is for guidance only. Some services are provided only in conjunction with other services. Therefore, the final price may differ from those presented on this site when contacting a medical center to conclude a contract for the provision of medical services.
Магнитно-резонансная томография
Вверх
Услуга
цена для граждан:
беларуси
снг
остальных стран
МРТ головного мозга без внутривенного усиления (без контрастирования)
142 р. 06 к.
360 р. 62 к.
360 р. 62 к.
МРТ головного мозга с внутривенным усилением (без учета контрастного вещества)
188 р. 36 к.
472 р. 64 к.
472 р. 64 к.
МРТ лицевого черепа без внутривенного усиления (без контрастирования) с внутривенным усилением (без учета контрастного вещества)
112 р. 20 к.
281 р. 37 к.
281 р. 37 к.
МРТ лицевого черепа с внутривенным усилением (без учета контрастного вещества)
161 р. 35 к.
405 р. 63 к.
405 р. 63 к.
МРТ малого таза без внутривенного усиления (без контрастирования)
155 р. 21 к.
508 р. 68 к.
508 р. 68 к.
МРТ малого таза с контрастным усилением - без учета контраста (Стандартный набор исследований)
260 р. 39 к.
810 р. 53 к.
810 р. 53 к.
МРТ молочных желез с внутривенным усилением (без учета контрастного вещества)
266 р. 47 к.
747 р.
747 р.
МРТ отдела позвоночника без внутривенного усиления (без контрастирования)
131 р. 24 к.
343 р. 64 к.
343 р. 64 к.
МРТ отдела позвоночника с внутривенным усилением (без учета контрастного вещества)
184 р. 89 к.
487 р. 47 к.
487 р. 47 к.
МРТ коленного сустава без внутривенного усиления (без контрастирования)
168 р. 68 к.
468 р. 16 к.
468 р. 16 к.
МРТ головного мозга по сосудистой программе (+МР ангиография)
Вверх
Услуга
цена для граждан:
беларуси
снг
остальных стран
МРТ головного мозга с внутривенным усилением (без учета контрастного вещества)
188 р. 36 к.
472 р. 64 к.
472 р. 64 к.
МР-ангиография с контрастным усилением - без учета контраста (Стандартный набор исследований)
191 р. 04 к.
524 р. 85 к.
524 р. 85 к.