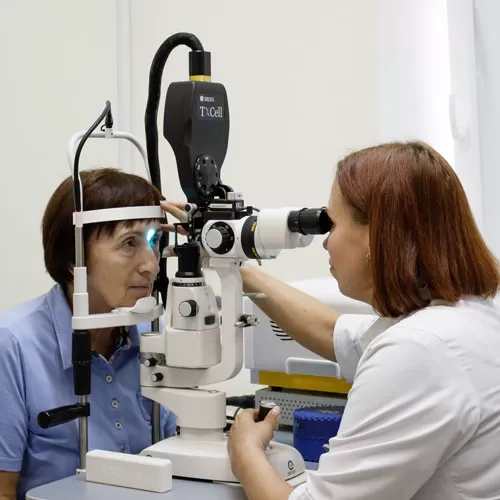 Eye care
Nature gifted humans with five senses. By smelling, hearing, tasting and feeling, we collect merely 10% of information about the surrounding world. Eyesight is responsible for 90% of it. Unfortunately, this sensory organ can perform improperly. In such cases, we turn to an ophthalmologist for help.
THE CAPABILITIES OF THE OPHTHALMOLOGY DEPARTMENT OF THE RCMC
The Ophthalmology Department of our Medical Center offers the following services:
Comprehensive Examination
an initial consultation of an ophthalmologist to determine the diagnosis and therapy procedure. Premium-class equipment used by our Department enables comprehensive examination of your eyes. Certain studies are unique to our Center, and are not available in any other Belarusian health care institution.
Diagnostics
Our Department performs the following diagnostic examinations and tests:
Visual acuity test and spectacle lens selection (spherical and astigmatic lenses).
Study of the field of view..
MICROPERIMETRY
Measurement of intraocular pressure.
Corneal topography involving an analysis of the anterior and posterior cornea surface properties.
Pachymetry.
Ultrasonic eye examinations..
Echo biometry (an ultrasonic examination involving eye parameter estimation) -- both using the contact and IMMERSION techniques!
Endothelial eye biomicroscopy.
Eye ground examination using the fundus lens..
Fluorescent eye fundus angiography..
Video retinoscopy..
Electrophysiological eye examinations..
Optical scanning tomography of retina and the optic nerve (including 3D tomography).
Optical eye biometry..