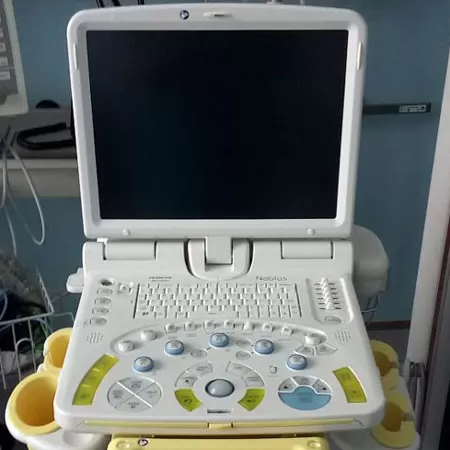 Endoscopic ultrasound imaging (EUS)
Endoscopic ultrasound imaging (EUS) (of the esophagus, stomach, the duodenum or the rectum) + thin-needle puncture under EUS monitoring.
INDICATIONS FOR ENDOSCOPIC ULTRASONOGRAPHY
EUS is frequently used for:
Differential diagnosis of non-epithelial neoplasms of the digestive tract, external compressions; determination of the layer where the non-epithelial neoplasm originates.
Identification of local occurrences of digestive system tumors and of lymphangitic metastases, and determination of the tumor invasion depth.
Detection of pancreatobilear system pathologies, pancreatic gland pathologies, pathologies of major duodenal papilla and for other reasons.
If required, thin-needle puncture of the digestive tract and pancreatic gland neoplasms is performed with the assistance of endoscopic ultrasound imaging.
THE PROCEDURE OF ENDOSCOPIC ULTRASONOGRAPHY
EUS is a highly clinically valuable technique of digestive system disorder diagnostic performed using a special endoscope whose distal end is equipped with an ultrasonic probe, or by a special ultrasonic probes that are introduced via the forceps aperture of the esophagogastroduodenoscop or colonoscop.
PREPARING FOR EUS
The examination is performed on an empty stomach only (please completely refrain from eating eight to ten hours and drinking six to eight hours before the start of the examination).
Eat a light dinner on the evening before the examination (before 18:00).
Smoking on the day of the examination is only permitted after the completion of the procedure.
HOW DO I HAVE AN ENDOSCOPIC EXAMINATION AT THE RCHCC?
To be eligible for the examination, you will need a referral from your physician.
Please call our Contact Center to clarify the procedure of making an appointment (you will have to visit an endoscopist at the Endoscopic Department before making an appointment for the examination).