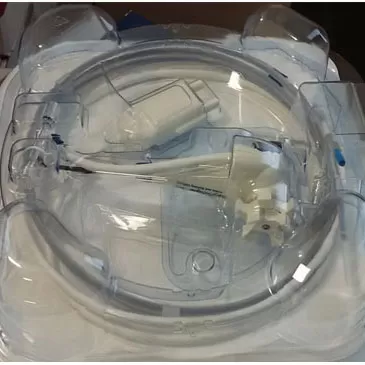 Examination of bile passage and pancreatic ducts
Endoscopic retrograde cholangiopancreatography (ERCP) is a technique of endoscopic diagnostics of bile passage and pancreatic duct pathologies.
INDICATIONS FOR THE EXAMINATION
The most frequent indication for this examination is obstructive jaundice caused by a variety of conditions (gallstone disease, cholangiolithiasis, pancreatic gland tumor, Klatskin tumor, corrosive strictures of bile passages, polyps in bile passages, tumors of major duodenal papilla).
THE PROCEDURE OF THE STUDY
ERCP is used to diagnose the causes of obstructive jaundice, and may involve the following therapeutic techniques (depending on indications):
papillosphincterotomy;
choledocholith extraction;
mechanical and laser choledocholithotripsy;
bile duct stenting;
ballopon dilation of bile duct strictures;
cholangioscopy (spay glass) – this procedure is performed with the use of a special flexible choledochoscope; it enables the physician to visually evaluate the mucous lining of bile ducts, reveal any stones and perform a laser lithotripsy, identify any neoplasms within bile ducts and collect biopsy samples.
PREPARING FOR THE TEST
Necessary preliminary examinations: blood and urine tests, X-ray imaging of thoracic cage organs, ECG and ultrasonography.
Before the day of the test, please have your last meal no later than at 18:00.
On the day of the test, eating and drinking is only allowed after the test.
HOW DO I HAVE ERCP AT THE CENTER?
This procedure is only performed at surgical inpatient facilities
Branch services
The information presented in this Price List is for guidance only. Some services are provided only in conjunction with other services. Therefore, the final price may differ from those presented on this site when contacting a medical center to conclude a contract for the provision of medical services.
Обследование желчных и панкреатических протоков
Вверх
Услуга
цена для граждан:
беларуси
снг
остальных стран
РПХГ. Диагностическая
253 р. 40 к.
306 р. 06 к.
306 р. 06 к.
РПХГ. Диагностическая (в/в анестезия)
205 р. 05 к.
240 р. 35 к.
240 р. 35 к.
Холедохоскопия
2242 р. 31 к.
2269 р. 02 к.
2269 р. 02 к.
Холедохоскопия анестезиологическое пособие (в/в анестезия)
187 р. 05 к.
216 р. 78 к.
216 р. 78 к.