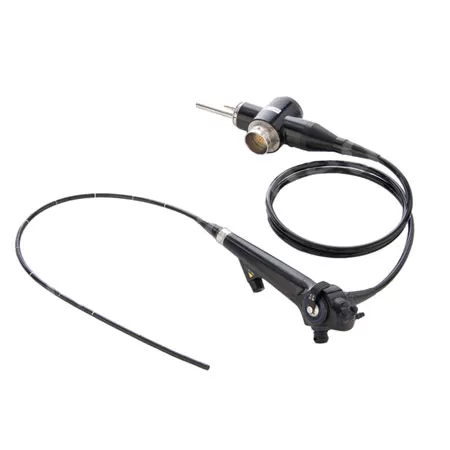 Videobronchoscopy
Videobronchoscopy (VBS) + biopsy
INDICATIONS FOR THE TEST
respiratory system disorder diagnostics;
tissue sampling for histological and cytological studies.
THE PROCEDURE OF THE TEST
VBS is an endoscopic method of evaluation of tracheal and bronchal mucosal lining and lumen with the use of a flexible video endoscope in order to detect tracheobronchial tree pathologies.
A bronchoscope is introduced through the nose or mouth and, through glottal aperture, into bronchi. A bronchoscope is much thinner than respiratory passages and does not obstruct breathing.
If needed, biopsy is performed during the examination, that is, samples are collected for cytological studies.
CONTRAINDICATIONS:
acute cerebral accident or myocardial infarction;
exacerbated bronchial asthma;
psychiatric disturbances;
epilepsy;
hypertensive disease;
allergies to the anesthetic agent used during the procedure;
larynx or trachea stenosis;
blood clotting abnormalities.
PREPARING FOR VIDEOBRONCHOSCOPY
Preliminary studies: lung X-ray imaging, ECG, blood tests.
Refrain from eating for eight hours before the examination.
On the day of the test, smoking is only permitted after the procedure.
HOW DO I HAVE VIDEOBRONCHOSCOPY AT THE RCHCC?

Videobronchoscopy is performed on inpatients following an X-ray examination of thoracic cage organs.
Branch services
The information presented in this Price List is for guidance only. Some services are provided only in conjunction with other services. Therefore, the final price may differ from those presented on this site when contacting a medical center to conclude a contract for the provision of medical services.
Услуга
цена для граждан:
беларуси
снг
остальных стран
БС. Диагностическая
77 р. 31 к.
93 р. 10 к.
93 р. 10 к.
БС. Диагностическая (в/в анестезия)
145 р. 37 к.
177 р. 59 к.
177 р. 59 к.