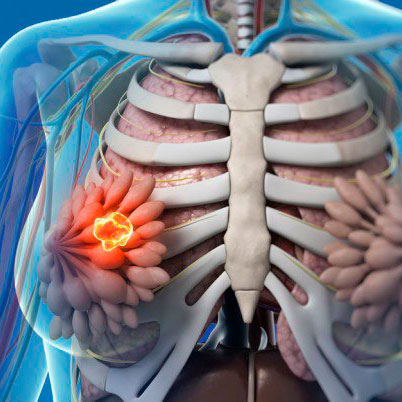 Mastopathy treatment
Mastopathy, or fibrocystic breast disease, accounts for the largest proportion within the population affected by benign mammal gland pathologies. Manifestations of mastopathy result in a decline of the quality of life of female patients, while numerous examinations, repeated conservative treatment courses and surgical interventions may cause social alienation of women the majority of which still belongs to an active working age.
INDICATIONS TO OUTPATIENT MAMMOLOGY TREATMENT
Presence of fibrocystic breast disease, mastopathy or gynecomastia;
Development of breast tumors or inflammations.
MASTOPATHY TREATMENT PEFORMED AT THE RCMC
Treatment is based on the body of clinical and medical history data, results of hormonal studies, as well as on ultrasonic and mammography indicators. On this basis, the diagnosis of the disorder and, subsequently, main directions of pharmaceutical therapy are established.
Therapeutic activities in cases of fibrocystic breast disease are aimed at:
elimination of causes that provoke the occurrence of the disease and promote its prolonged development;
harmonization of the neuroendocrine system; and
correction of the hormone balance in breast tissues.
Before appointing mastopathy treatment, the causes of hormonal disorders are determined to the extent possible, because without eliminating the causes one can hardly count on a successful treatment. To do that, relevant specialists (gynecologists, endocrinologists, etc.) are engaged. If any inflammatory diseases of the women's genital sphere, liver, bile-excreting ducts, or hypothyrosis are revealed, the therapy starts with the procedures aeimed at the elimination of the respective pathology.
Essential strategies of mastopathy therapy are:
development of proper menstrual rhythms;
treatment of nonovulation;
elimination of hormonal disbalance;
recovery of impaired metabolism;
treatment of infections present in the patient's body;
correction of psychosomatic disturbances;
arresting pain symptoms;
correction of disorders and manifestations of concomitant somatic pathologies.
HOW TO GET TO THE MASTOPATHY TREATMENT AT THE RCMC
Call the Contact Center to make an appointment
Conclude a contract for the provision of paid services at the registry
Pay the invoice at the cash desk of the RCMC or via ЕРИП (SSIS: Single Settlement and Information Space)
Come to the consultation on time.