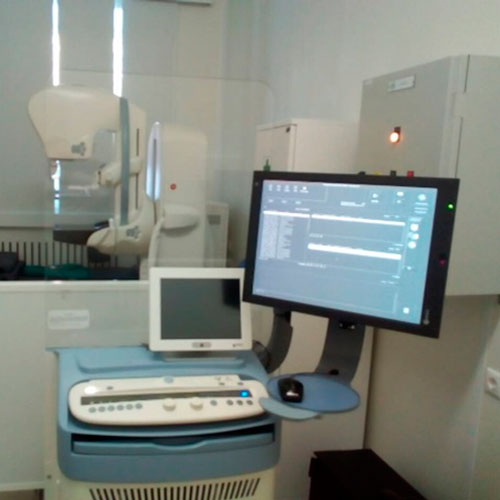 Mammologist's reception
Breast cancer is among the most prevalent women's oncological diseases. The only way to prevent the development of the disease is to reveal malignant neoplasms at an early stage.
INDICATIONS TO SEEKING A MAMMOLOGIST'S SERVICES
Changes in the mammal gland (the form and color of the nipple, stiffening;
secretions from nipples;
an unpleasant or painful sensation in the breast;
enlarged lymph nodes at one of the axillary cavities.
The earlier the tumor is detected, the more chances the patient has for recovery. For this reason, we recommend undergoing regular mammologist examinations.
Please note:
Women of over 35 years of age should visit a mammologist once every one or two years, and have a breast ultrasonography performed. If the woman is affected by such disorder as mastopathy or fibroadenoma, which in itself is a risk factor of developing a malignant neoplasm, preventive examinations shall be underwent every year.
Women 50 to 70 years old are recommended to undergo a mammography examination once every two years since women of this age belong to the oncological disease risk group.
WHAT IS A MAMMOLOGIST'S RECEPTION LIKE?
During the reception, the mammologist listens to the patient's complaints and tries to reveal mammal gland cancer risk factors. An examination, a palpation and a ultrasonography of mammal glands are performed.
If it is necessary, additional laboratory and radiology tests are appointed. Following the examination results, treatment is developed.
PREPARING FOR A VISIT TO THE MAMMOLOGIST
Women of the reproductive age shall visit mammologist on certain days of the menstrual cycle, namely, on days 5 to 12.
After the menopause, women are free to visit the mammologist on any day.
HOW TO GET AN APPOINTMENT WITH A MAMMOLIGIST AT THE RCMC
Call the Contact Center to make an appointment
Conclude a contract for the provision of paid services at the registry
Pay the invoice at the cash desk of the RCMC or via ЕРИП (SSIS: Single Settlement and Information Space)
Come to the consultation on time.
Branch services
The information presented in this Price List is for guidance only. Some services are provided only in conjunction with other services. Therefore, the final price may differ from those presented on this site when contacting a medical center to conclude a contract for the provision of medical services.
Услуга
цена для граждан:
беларуси
снг
остальных стран
Комплексное обследование молочных желез
135 р. 17 к.
199 р. 10 к.
199 р. 10 к.