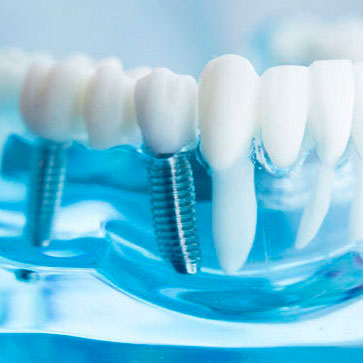 Implantation
SI "Republican Clinical Medical Center" performs installation of implants into upper and lower jawbones. These implants can serve as the basis for mounting removable and stationary dental prosthetics.
INDICATIONS TO DENTAL IMPLANTATION
Dental implantation is performed in cases when it is impossible to preserve the tooth. For a variety of reasons, a rapid destruction of dental crown or root may occur. Due to lack of mastication load, the gum area adjacent to the decayed tooth atrophies. This may also cause facial topography to alter. To prevent this, an implant is installed in place of the missing tooth, on which a dental crown is subsequently fixed.
DENTAL IMPLANTATION AT THE RCMC
Dental implantation is carried out in several stages. At SI "RCMC", we perform the initial stages:
preparatory (dental and radiation examination of the maxillomandibular apparatus); and
surgical procedure (installation of the implant).
We use imported materials (made in Israel) in implantation procedures.
CONTRAINDICATIONS
blood clotting abnormalities;
oncological diseases;
inflammatory processes in the mouth cavity;
diabetes mellitus;
decay of connective tissue of the maxillomandibular area.
PREPARATION
At the preparation stage, a dentist schedules an examination of the patient to reveal any contraindications to dental implantation. Apart from the dental examination, the patient shall also visit a therapeutist and have various tests taken. When it is required, certain other examinations may have to be carried out by other medical specialists.
HOW TO GET PROFESSIONAL CLEANING OF THE ORAL CAVITY AT THE RCMC
Call the Contact Center to make an appointment
Conclude a contract for the provision of paid services at the registry
Pay the invoice at the cash desk of the RCMC or via ЕРИП (SSIS: Single Settlement and Information Space)
Come to the consultation on time.
Cost of services depends on the scope of performed medical manipulations and the cost of consumables.