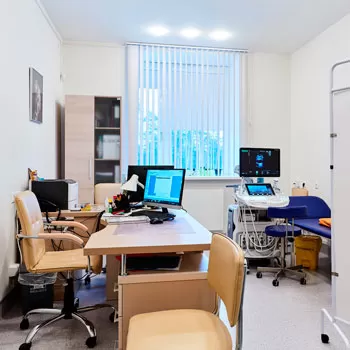 Women's Health
Department
PRIMARY OBJECTIVES OF THE WOMEN'S HEALTH DEPARTMENT
The main objectives of the Women's Health Department is outpatient care to women affected by gynecological and breast disorders. Divisions of the Department identify and provide outpatient treatment of women's reproductive system diseases (with the exception of sexually transmitted diseases) and refer patients to the gynecological inpatient facilities.
The Center's highly skilled medical professionals with years of practical experience and expert-class equipment of the Center make it possible to offer the following services:
patient examination and testing;
provisional diagnosis, examination and treatment planning;
performing the required diagnostic and treatment activities directly at the medical specialist's office;
arrangement and performance of necessary diagnostic, treatment and preventive activities;
providing the patient with the report on their health condition, and instructing them on the procedure of diagnostic, treatment and preventive activities;
planned or emergency hospitalization of patients based on health indications;
provision of emergency medical services during the same day
DIVISIONS
The Women's Health Department of the Center offers fee-based professional medical services.
We bring together high professionalism, quality of service and care to our patients.
TERMS OF SERVICE PROVISION
Specialists of the Women's Health Department provide a range of outpatient consultation services to assigned patients, as well as on a fee basis to patients under health service provision contracts.
To make an appointment for a paid appointment and get background information, you can use the services of the Contact Center: 8 (017) 543-44-44 and 8 (029) 543-44-45.
They work in the department
Tishurova Tatiana Vladimirovna
Head of the Women's Health Department
Poddubny Alexander Alexandrovich
Head of the mammology office
Drozd Valentina Alexandrovna
Ultrasound diagnostics Doctor
Kryuchkova Marina Ivanovna
Obstetrician-gynecologist
Labetskaya Elena Fedorovna
Obstetrician-gynecologist
Semichkovsky Leonid Anatolyevich
Oncologist-surgeon
Shabunevich Elena Aleksandrovna
Obstetrician-gynecologist
Shkoda Tat'yana Sergeevna
врач акушер-гинеколог