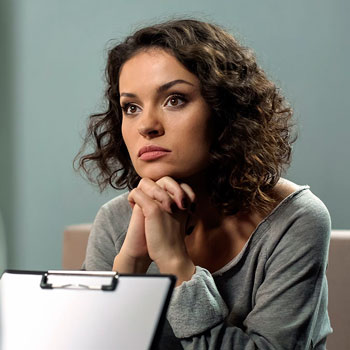 The Psychology/Psychotherapy Offices operate as part of the Medical Rehabilitation Department. Our specialists provide patient advice in comfortable rooms that invite patients to a frank conversation.
All of us, barring none, are challenged by problems associated with relationships and interactions with other persons, stressful situations and internal strife at certain periods in their lives.
Not every person is able to cope with hardships and challenges on their own. That is where and individual or family counseling may need to be provided by an experienced psychologist who would help, guide and provide how-tos.
Psychologist would assist you to unfold your inner capabilities and would arm you with insights that would help overcome hardships and adapt to changing living conditions.
MEDICAL SERVICES PROVIDED BY PSYCHOTHERAPY OFFICE SPECIALISTS
Individual and family counseling;
psychological diagnosis and counseling for women during pregnancy;
psychological support of patients anticipating a surgical intervention;
psychological support to patients affected by oncology disorders, chronic cardiovascular, endocrine and neurology disorders, aftereffects of traumas, cerebral or other cerebrovascular accidents.
Our psychotherapist provides individual counseling as part of rehabilitation programs.
Psychotherapeutic sessions are conducted in a comfortable environment, and may be accompanied by audiovisual stimulation.
Audiovisual stimulation is a method of instrumental therapeutic exposure to carefully selected auditory and visual stimuli. The audiovisual stimulation technique is based on the process of "training" the brain to correct pathological rhythms (anxiety, depression, irritation etc.) and tune in to natural positive rhythms.
Owing to the comprehensive approach, the psychotherapy specialist is able to correct such conditions as high anxiety, depressive disorder, emotional burn-out or sleeping disorders.
TERMS OF SERVICE PROVISION
Psychologist and psychotherapist receive patients based on health service contracts.
The Office is open daily, from 8:00 till 20:00, and operates in two shifts.
To make an appointment and for more information, please contact the Contact Center: 8 (017) 543-44-44 and 8 (029) 543-44-45.
Shtin Aelita Viktorovna
Psychotherapist
Shumskaya Elena Gennadievna
Psychologist
Shtin Aelita Viktorovna
Psychotherapist
Specialization: Psychiatrist-narcologist, health care organizer, psychotherapist
Work experience: 34 of the year
To the doctor's card
See all doctors
Shumskaya Elena Gennadievna
Psychologist
Specialization: Psychology of family relations and sexology; psychotherapy and medical psychology
Work experience: 21 year
To the doctor's card
See all doctors