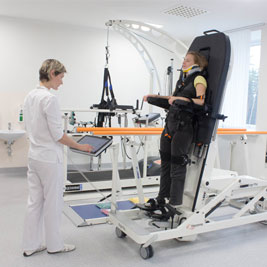 MEDICAL SERVICES PROVIDED BY MEDICAL REHABILITATION SPECIALISTS
The key concept of operation of our Department is: individualized, comprehensive and multidisciplinary approach to patient recovery.
Types of rehabilitation services offered by our Department are:
Neuromotor and orthopedic rehabilitation

We provide unlimited rehabilitation possibilities, starting with robot-aided orthopedic devices with weight relief for early-stage verticalization to physiotherapy treatment using state-of-the-art machines from the world's top manufacturers.

Training of motor and coordination disorders using biofeedback technology.

Late rehabilitation for motor disorders after stroke and traumatological diseases.
Full spectrum of rehabilitation procedures for vertebrogenous disorders

manual therapy;
metered hardware traction (including underwater);
shock wave therapy;
hydrokinesotherapy (water simulators in the pool);
reflexology;
carboxytherapy, pharmacopuncture;
kinesiotaping.
The complete range of cardiac rehabilitation procedures

It is carried out using the most modern cardio equipment.
Post-operative recovery

It is carried out in accordance with the protocols of accelerated rehabilitation after operations (ERAS Fast-Trak Sugery).
More information about the services provided by the Department is available at the Rehabilitation Programs and physiotherapy page.
TERMS OF SERVICE PROVISION
Medical rehabilitation of patients is carried out on the basis of medical care contracts.
The Department is open daily from 8:00 till 20:00.
Please note:
Patients are referred to the rehabilitation specialist after preliminary examinations.
To make an appointment with a rehabilitologist and for reference information, contact the Contact Center: 8 (017) 543-44-44 and 8 (029) 543-44-45.
Gorbach Inna Ivanovna
Rehabilitologist
Tarasova Elena Ivanovna
Rehabilitation doctor