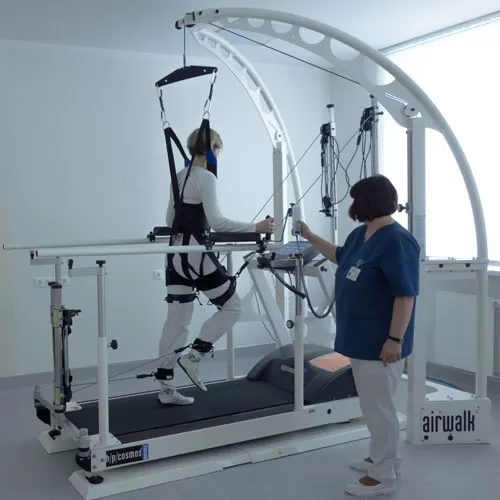 Rehabilitation and physical therapy
The Republican Clinical Medical Center is outfitted with advanced medical and sports equipment of the leading national and foreign manufacturers to offer rehabilitation of patients affected by neuromotor and orthopedic pathologies. We offer a comfortable rehabilitation environment. Our medical specialists introduce and actively apply the most advanced methods of treatment and rehabilitation.
CAPABILITIES OF THE MEDICAL REHABILITATION DEPARTMENT
Main priority areas of individual rehabilitation programs Individualized multidisciplinary approach to remedial treatment involving diagnostics and hospitalization:
Therapeutic and health improvement programs

These serve to prevent diseases, improve health, relieve tension and maintain physical fitness. Our physiotherapy specialists will assist you in the selection of physical therapy procedures and rehabilitation activities based on your health status.

Spa programs:

To make you feel good and relaxed:

Physiotherapy techniques for disease treatment and rehabilitation serve to improve overall vitality of the body and facilitate relief of fatigue. No less important is the ability of physiotherapeutic factors to actively affect organs and systems (specifically, the locomotor apparatus, the nervous system and blood circulation), enhance their functional activity, facilitate recovery of impaired functions, and stimulate body defenses.

The Medical Rehabilitation Department offers a broad spectrum of physiotherapy techniques with the use of latest-generation stations and equipment made by top international manufacturers.

Electric therapy:

galvanization, electrophoresis of medicinal products, diadynamic therapy, amplipulse therapy, etc. Combination procedures: vacuum/electric therapy and vacuum-electrophoresis.

Phototherapy:

laser therapy, supravenous laser irradiation of blood, bioptron therapy, phototherapy and heliotherpay.

Magnetotherapy:

local and general action (stations BTL -500 Laser (USA), ALMAG, PhotoSPOK, OrtoSPOK, UniSPOK, Magnetoturbotron (Russia).

Ultrasund therapy and phonophoresis of medicinal products.
Shortwave therapy.
Low-energy shock therapy.
Pneumatic pressotherapy (Lymphastim-6000 station (BTL, USA)).
Electrostatic vibromassage (Hivamat 200 evident (PHYSIOMED ELEKTROMEDIZIN AG, Germany)).
Balneo- and hydrotherapy:

dry carbon dioxide baths, mineral and medicated baths, bubble and whirlpool baths; underwater massaging shower; contactless hydromassage; power shower, circular and rising showers.

Thalassotherapy:

тsea mineral therapy and Vichy shower.

Salt therapy (speleotherapy)
Mechanical massage:

massage couch NugaBest.

Aerocryotherapy:

local action (Cryoflow 1000 station by GymnaUniphy (Belgium/Germany)).

Thremotherapy:

paraffin/ozokerit application, application of sapropelic therapeutic mud and Sak Lake medicinal mud.
Attention! The procedure is only performed based on the physiotherapy specialist (rehabilitation therapist) consultation results. Please bring an excerpt from your medical record, X-ray fluorogrpahy, ECG and gynecologist examination (for women) reports for the current year.
You may undergo all the necessary examinations at our Center.