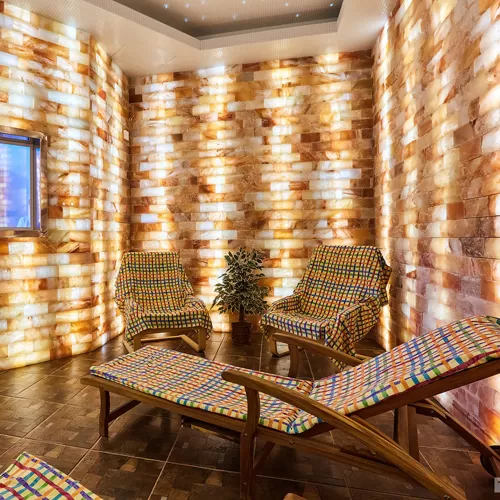 Cerebral post-COVID-19 rehabilitation services
The coronavirus infection may result in severe lung damage and lead to an onset of pneumonia complicated with fibrosis, respiratory impairment and mental disorders. Thus, earliest possible medical rehabilitation is required.
INDICATIONS FOR REHABILITATION
previous case of pneumonia;
functional impairment of internal organ functions;
degradation of motor activity;
depressed psychoemotional state.
CEREBRAL POST-COVID-19 REHABILITATION SERVICES PROVIDED BY THE RCMC
The Rehabilitation program involves:
initial consultation of a rehabilitation therapist;
physical therapy;

hygienic gymnastics;
pole walk training;

thoracic region massage;
speleotherapy;
supravenous laser irradiation of blood.
The program may also involve additional rehabilitation procedures, examinations and specialist consultations.
The program may be altered based on medical indications.
HOW CAN I UNDERGO REHABILITATION AT THE RCMC?
Subject to the availability of indications for rehabilitation, additional information and required approval, you will have to:
Call (017)543-42-86, (017)543-42-85
Come to the consultation on time and bring available medical records.
Conclude a contract for the provision of paid services at the registry
Pay the invoice at the cash desk of the RCMC or via ЕРИП (SSIS: Single Settlement and Information Space)
Branch services
The information presented in this Price List is for guidance only. Some services are provided only in conjunction with other services. Therefore, the final price may differ from those presented on this site when contacting a medical center to conclude a contract for the provision of medical services.
Реабилитация после COVID-19
Вверх
Услуга
цена для граждан:
беларуси
снг
остальных стран
Первичный прием врача-реабилитолога
34 р. 56 к.
47 р. 36 к.
47 р. 36 к.
Индивидуальное занятие в тренажерном зале (лечебная физкультура, за 1 занятие)
15 р. 60 к.
35 р. 56 к.
35 р. 56 к.
Массаж (за 1 сеанс)
14 р. 87 к.
44 р. 53 к.
44 р. 53 к.
Галотерапия, камерная спелеотерапия (на 1 человека, за 1 сеанс)
10 р. 43 к.
27 р. 76 к.
27 р. 76 к.
Магнитолазерная терапия (за 1 процедуру)
10 р. 55 к.
25 р. 93 к.
25 р. 93 к.
Психологическое консультирование
51 р. 57 к.
112 р. 25 к.
112 р. 25 к.
Первичный прием врача-психотерапевта (взрослый)
35 р.
58 р. 60 к.
58 р. 60 к.
Электростатический вибромассаж области грудной клетки аппликатором (с подготовкой)
15 р. 47 к.
47 р. 32 к.
47 р. 32 к.
Подготовка к проведению процедуры массажа (применяется перед каждой процедурой )
2 р. 88 к.
8 р. 62 к.
8 р. 62 к.
Магнитотерапия общая, термомагнитотерапия общая (на аппарате Магнитотурботрон)
14 р. 25 к.
31 р. 57 к.
31 р. 57 к.
Суховоздушные радоновые или углекислые ванны
10 р. 73 к.
31 р. 78 к.
31 р. 78 к.