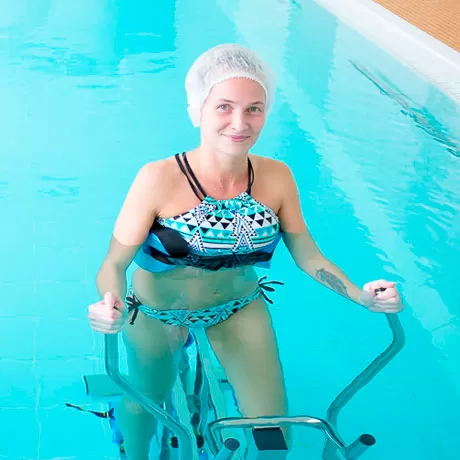 Rehabilitation after locomotor apparatus traumas and orthopedical operations
Staged recovery from motor function impairment caused by locomotor apparatus traumas and after orthopedical operations with optional hospitalization at the Surgery Department for 7, 14 or 21 days.
INDICATIONS FOR LOCOMOTOR APPARATUS REHABILITATION
fractures, limb and spine injuries;
joint prosthetics and correction operations;
early mobilization of patients.
LOCOMOTOR APPARATUS REHABILITATION SERVICES PROVIDED AT THE RCMC
Broad physical rehabilitation capabilities. Recovery following limb fractures, spine injuries, joint prosthetics, correction of hallux valgus and capsular joint ligamentous apparatus of deformations. Individual sessions supervised by experienced highly skilled specialists.
Services of mechanical therapy and functional exercises at our high-end equipment

Early patient verticalization with the use of an advanced verticalization system which features a robotic orthopedic device, tilt table Erigo Pro (Hocoma, Switzerland), and at the treadmill which features weight reduction functionality: H/P/COSMOS Robowalk expander (HPCOSMOS, Germany).
Motor and coordination function development at exercisers that feature biofeedback function -- Amadeo, Tymo, Pablo (Tyromotion GmbH, Austria).
Passive recovery of movement range of major joints with the use of Kinetec (France) rehabilitation exercisers.
Exercise sessions at Keiser pneumatic exercisers and Kinesis rehabilitation exercise stations that enable multi-planar movements in the presence of a uniform resistance.
Recovery of fine motor skills with the use of occupational therapy techniques.
Sessions at the vibration platform to normalize muscle tone and stimulate lymph and blood flow.

Kinesio Taping sessions to normalize muscle tone and optimize the process of motor function recovery.
A comprehensive range of physiotherapy procedures including electrical myostimulation and massage.
Hydrokinesitherapy (remedial gymnastics performed in a pool). The Rehabilitation and Physical Therapy Department's water pool is equipped with a special lifting device to ensure comfort and safety of physically challenged patients, as well as with water exercise stations.
Reflex therapy.
CONTRAINDICATIONS
General grave condition of the patient.
HOW CAN I UNDERGO LOCOMOTOR APPARATUS REHABILITATION AT THE RCMC?
In order to use the Center's rehabilitation capabilities, you need to have a referral of your consulting physician for locomotor apparatus rehabilitation.
Hospitalization to the Surgery Department to undergo rehabilitation is possible after the approval of Head of the Department Yury Viktorovich Butra.
To do this, you need:
Call the Contact Center to make an appointment for a consultation with the Head of the Surgery department
Come to the consultation on time and bring available medical records.
Conclude a contract for the provision of paid services at the registry
Pay the invoice at the cash desk of the RCMC or via ЕРИП (SSIS: Single Settlement and Information Space)
Branch services
The information presented in this Price List is for guidance only. Some services are provided only in conjunction with other services. Therefore, the final price may differ from those presented on this site when contacting a medical center to conclude a contract for the provision of medical services.
Услуга
цена для граждан:
беларуси
снг
остальных стран
Рефлексотерапия микросистем кисти
30 р. 09 к.
45 р. 29 к.
45 р. 29 к.
Рефлексотерапия микросистем стопы
30 р. 09 к.
45 р. 29 к.
45 р. 29 к.
Фармакопунктура
30 р. 11 к.
45 р. 31 к.
45 р. 31 к.
Аппликационная рефлексотерапия
14 р. 22 к.
21 р. 82 к.
21 р. 82 к.
Скальпорефлексотерапия
44 р. 24 к.
67 р. 04 к.
67 р. 04 к.
Услуга
цена для граждан:
беларуси
снг
остальных стран
Электролечение
10 р. 61 к.
28 р. 27 к.
28 р. 27 к.
Магнитостимуляция
9 р. 41 к.
20 р. 82 к.
20 р. 82 к.
Другие реабилитационные процедуры после травм
Вверх
Услуга
цена для граждан:
беларуси
снг
остальных стран
Стол-вертикализатор Erigo Pro
52 р. 08 к.
81 р. 33 к.
81 р. 33 к.
Механотерапия на тренажерах
14 р. 03 к.
28 р. 68 к.
28 р. 68 к.
Аппарат для коррекции нарушений крупной и мелкой моторики мышц верхних и нижних конечностей
22 р. 33 к.
44 р. 33 к.
44 р. 33 к.
Стабилоплатформа
14 р. 69 к.
38 р. 61 к.
38 р. 61 к.
Тренажеры Kinesis
41 р. 42 к.
63 р. 54 к.
63 р. 54 к.
Гидрокинезотерапия в бассейне
21 р. 92 к.
36 р. 90 к.
36 р. 90 к.
ЛФК для травматологических пациентов в период иммобилизации при индивидуальном методе занятий
11 р. 07 к.
21 р. 81 к.
21 р. 81 к.
ЛФК для травматологических пациентов после иммобилизации при индивидуальном методе занятий
16 р. 16 к.
30 р. 77 к.
30 р. 77 к.
Кинезиотейпирование (одна зона, без учета стоимости лент)
11 р. 94 к.
27 р. 37 к.
27 р. 37 к.
ЛФК для ортопедических пациентов после ВТО в раннем восстановительном периоде
26 р. 88 к.
45 р. 26 к.
45 р. 26 к.
ЛФК для ортопедических пациентов после ВТО в раннем послеоперационном периоде
18 р. 03 к.
30 р. 28 к.
30 р. 28 к.