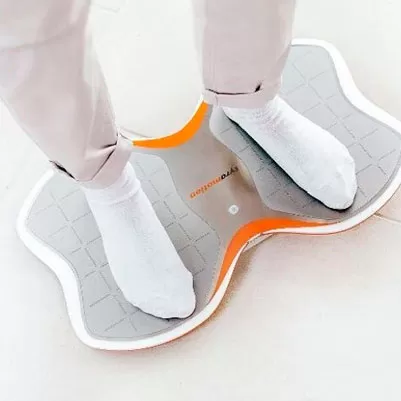 Treatment of dizziness
The process of treatment and rehabilitation of patients affected by chronic dizziness is managed by medical specialists of various specialization (neurologists, otolaryngologists, rehabilitation therapists. psychotherapist, psychotherapist, reflexologist, etc.).
The reasons beyond dizziness are numerous and various: inflammation of the inner ear, osteochondrosis, hemicrania, epilepsy and other disorders of the central nervous system. This condition may also be caused by such diseases as diabetes mellitus, anemia, allergic reactions, menopause, depression, anxiety, panic attacks, etc. The list of forms of dizziness is also long.
INDICATIONS TO SEEKING A THERAPEUTIST'S SERVICES
One of the most common reasons to have this examination is frequent dizziness. This is the most widely spread unpleasant non-nonspecific symptom of many disorders.
WHAT IS THE PROCEDURE OF TREATMENT OF DIZZINESS AT THE RCMC
Obviously, the essential role in patient management is that of diagnostics, or determination of the direct cause and the type of dizziness. This allows to adopt a proper individual approach to rehabilitation.
At our Center, we offer consultation of experienced specialized professionals and a number of relevant tests (X-ray diagnostics, ultrasonic vessel examination, computer tomography, echo-encephalography and many others).
Our Functional Diagnostics Department comprises the Vestibulometry and Stabilometry Office where gait and equilibrium function abnormalities may be identified through testing, the reasons of dizziness revealed, and therapeutic/exercise programs performed.
Individual patient rehabilitation programs that are developed with consideration of their medical conditions include the following:
kinesitherapy: vestibular and coordination exercises, oculomotor exercises;
functional training at exercisers: equilibrium and gait correction exercises are conducted at Kinesis machines and at HP Cosmos treadmill which features weight reduction functionality;
exercise sessions conducted with the use of exercisers that feature biofeedback (Tymo balance platform) for therapeutic assessment of coordination, symmetry and equilibrium;
physiotherapy and balneotherapy (electric and light therapy, magnetotherapy, water therapy procedures, massage, etc.);
reflex therapy;
manipulative therapy;
psychotherapeutical correction.
CONTRAINDICATIONS
There are no absolute contraindications.
HOW CAN I UNDERGO TREATMENT OF DIZZINESS AT THE RCMC?
In order to use the Center's rehabilitation capabilities, you need to have a referral of your consulting physician for rehabilitation. In the absence of a referral, you may book an appointment of the Center's neurology specialist who will refer you to necessary rehabilitation procedures following an examination of your medical records.
To do this, you need:
Call the Contact Center to make an appointment with a neurologist or rehabilitologist
Conclude a contract for the provision of paid services at the registry
Pay the invoice at the cash desk of the RCMC or via ЕРИП (SSIS: Single Settlement and Information Space)
Come to the consultation on time.
Branch services
The information presented in this Price List is for guidance only. Some services are provided only in conjunction with other services. Therefore, the final price may differ from those presented on this site when contacting a medical center to conclude a contract for the provision of medical services.
Лечебные процедуры при лечении головокружений
Вверх
Услуга
цена для граждан:
беларуси
снг
остальных стран
Локомоторная тренировка с использованием реабилитационной системы разгрузки веса
27 р. 35 к.
47 р. 16 к.
47 р. 16 к.
Стабилоплатформа
14 р. 69 к.
38 р. 61 к.
38 р. 61 к.
Электрофорез с винпоцетином
10 р. 69 к.
23 р. 28 к.
23 р. 28 к.
Дарсонвализация местная
9 р. 95 к.
26 р. 36 к.
26 р. 36 к.
Фотохромотерапия, окулярные методики (биоптрон)
7 р. 43 к.
19 р. 68 к.
19 р. 68 к.
Лазеротерапия, магнитолазеротерапия чрескожная
7 р. 64 к.
13 р. 22 к.
13 р. 22 к.
Магнитотерапия местная
6 р. 31 к.
13 р. 91 к.
13 р. 91 к.
Магнитотерапия общая, термомагнитотерапия общая (на аппарате УниСПОК)
10 р. 45 к.
27 р. 72 к.
27 р. 72 к.
Магнитотерапия общая, термомагнитотерапия общая (на аппарате Магнитотурботрон)
14 р. 25 к.
31 р. 57 к.
31 р. 57 к.
Классическое иглоукалывание (акупунктура) без учета игл
30 р. 09 к.
49 р. 63 к.
49 р. 63 к.
Аурикулярная рефлексотерапия
21 р. 30 к.
29 р. 44 к.
29 р. 44 к.
Карбокситерапия
39 р. 32 к.
74 р. 12 к.
74 р. 12 к.
ЛФК для неврологических пациентов при индивидуальном методе занятий
19 р. 39 к.
34 р. 37 к.
34 р. 37 к.
Психотерапевтический сеан
45 р. 75 к.
90 р. 96 к.
90 р. 96 к.