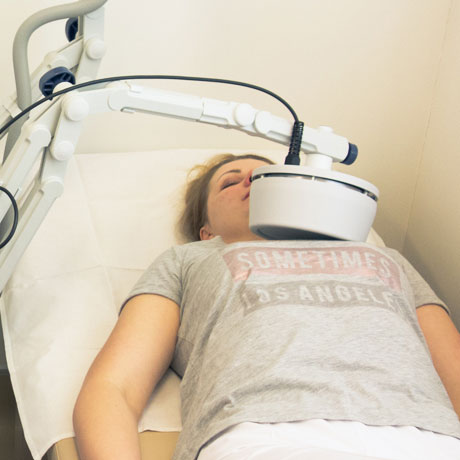 Physical therapy of acute and chronic respiratory diseases
With the aim of facilitating a speedy patient recovery after a respiratory disease, a physician may appoint a course of physical therapy procedures which may be conducted at the RCMC.
INDICATIONS TO PHYSICAL THERAPY OF RESPIRATORY ORGANS
chronic bronchitis;
bronchial asthma;
pneumonia;
chronic obstructive lung disease;
chronic tonsillitis;
chronic sinusitis or pharyngitis.
PHYSICAL THERAPY OF RESPIRATORY ORGANS AT THE RCMC
All types of electro- and phototherapy.
Magnetothreapy, both local and general. Magnetothreapy may be performed at the Magnetoturbotron station (offers an anti-edemic and anti-inflammatory action, and has an immunomodulating effect).
Salt therapy (speleotherapy) A session in a salt chamber facilitates enrichment of cells with benign ions. This restores the respiratory function while the respiratory microflora is cleansed from dust and harmful germs. During a halotherapy session, salty air improves blood oxygenation and stimulates body defenses to combat infections and germs.
Thermotherapy, shortwave therapy.
Supravenous laser irradiation of blood
Dry carbon dioxide baths.
Inhalation therapy.
Massage.
Patients affected by respiratory diseases undergo remedial gymnastics combined with breathing exercises under the guidance of our specialist that will assist in the development of a proper breathing pattern, improve the reserve of the respiratory system, improve blood oxygen saturation, improve the patient's wellbeing and enhance their working efficiency.
CONTRAINDICATIONS
Acute phase of the disease.
HOW CAN I UNDERGO PHYSICAL THERAPY OF RESPIRATORY ORGANS AT THE RCMC?
In order to use the Center's physical therapy capabilities, you will need to have a referral of your consulting physician for physical therapy procedures. In the absence of a referral, you may book an appointment of the Center's physiotherapy specialist (rehabilitation therapist) who will refer you to necessary rehabilitation procedures after studying your medical record.
To do this, you need:
Call the Contact Center to make an appointment with a physiotherapist (rehabilitologist)
Conclude a contract for the provision of paid services at the registry
Pay the invoice at the cash desk of the RCMC or via ЕРИП (SSIS: Single Settlement and Information Space)
Come to the consultation on time.
Branch services
The information presented in this Price List is for guidance only. Some services are provided only in conjunction with other services. Therefore, the final price may differ from those presented on this site when contacting a medical center to conclude a contract for the provision of medical services.
Лечение острых и хронических респираторных заболеваний
Вверх
Услуга
цена для граждан:
беларуси
снг
остальных стран
Консультация физиотерапевта, врача ЛФК, психолога, логопеда, рефлексотерапевта
23 р. 88 к.
47 р. 76 к.
47 р. 76 к.
Электрофорез (цена от)
6 р. 54 к.
15 р. 75 к.
15 р. 75 к.
Вакуум-электрофорез (цена от)
5 р. 68 к.
14 р. 85 к.
14 р. 85 к.
Индуктотермия
5 р. 79 к.
15 р. 34 к.
15 р. 34 к.
УВЧ-терапия
4 р. 81 к.
10 р. 63 к.
10 р. 63 к.
Сантиметроволновая терапия
4 р. 65 к.
10 р. 26 к.
10 р. 26 к.
Магнитолазерная терапия (за 1 процедуру)
7 р. 73 к.
19 р.
19 р.
Ультрафиолетовое облучение местное
3 р. 96 к.
10 р. 46 к.
10 р. 46 к.
Лазеротерапия, магнитолазеротерапия чрескожная
5 р. 59 к.
9 р. 69 к.
9 р. 69 к.
Фотохромотерапия, окулярные методики (биоптрон)
5 р. 44 к.
14 р. 42 к.
14 р. 42 к.
Галотерапия, камерная спелеотерапия (на 1 человека, за 1 сеанс)
7 р. 62 к.
20 р. 30 к.
20 р. 30 к.
Парафино-озокеритовые аппликации
9 р. 82 к.
25 р. 67 к.
25 р. 67 к.
Суховоздушные радоновые или углекислые ванны
7 р. 84 к.
23 р. 25 к.
23 р. 25 к.
Ингаляционная терапия (цена от)
3 р. 80 к.
10 р. 03 к.
10 р. 03 к.
Массаж (за 1 сеанс)
10 р. 96 к.
32 р. 64 к.
32 р. 64 к.
ЛФК для терапевтических пациентов при остром заболевании или обострении хронического заболевания и постельном режиме при индивидуальном методе занятий
7 р. 01 к.
15 р. 45 к.
15 р. 45 к.